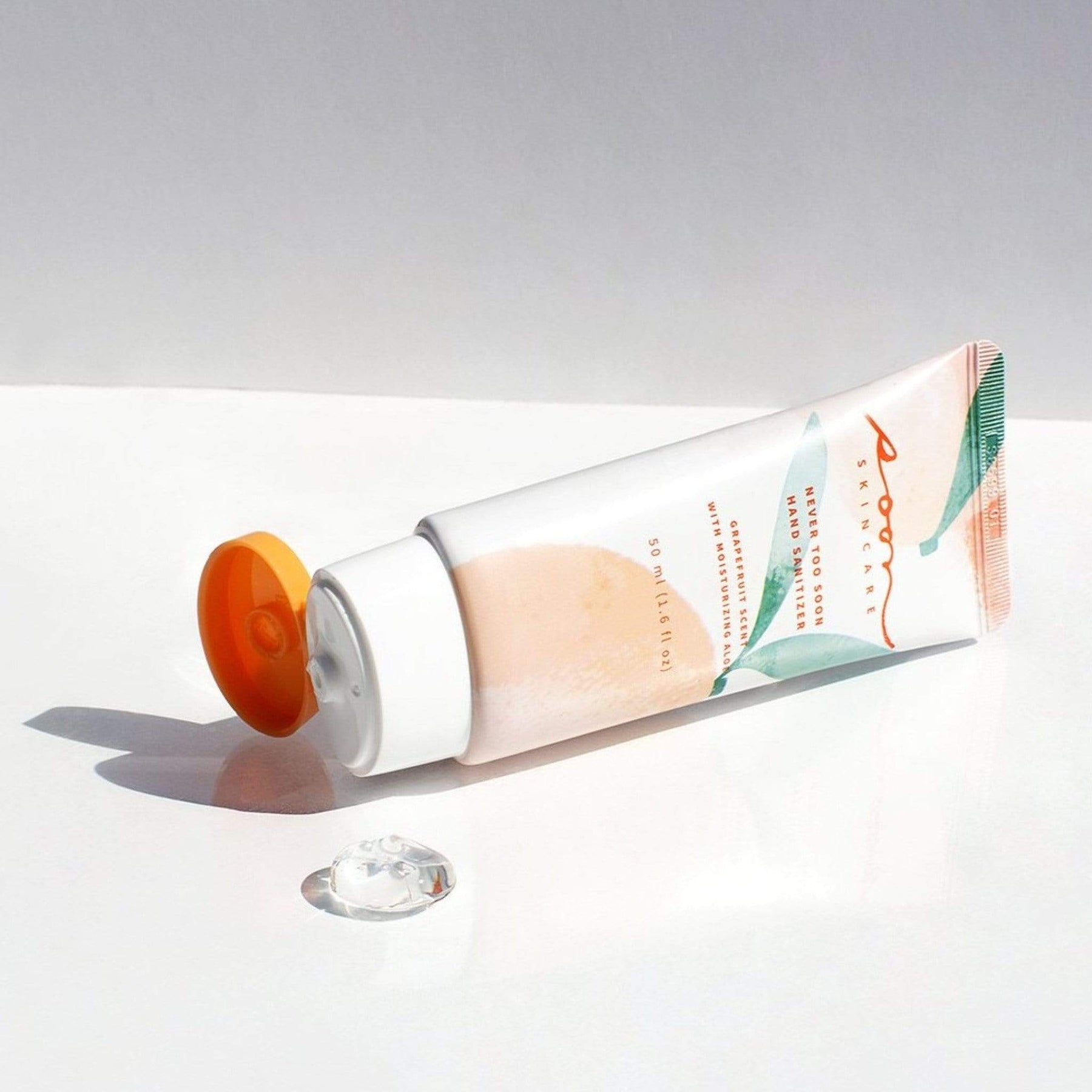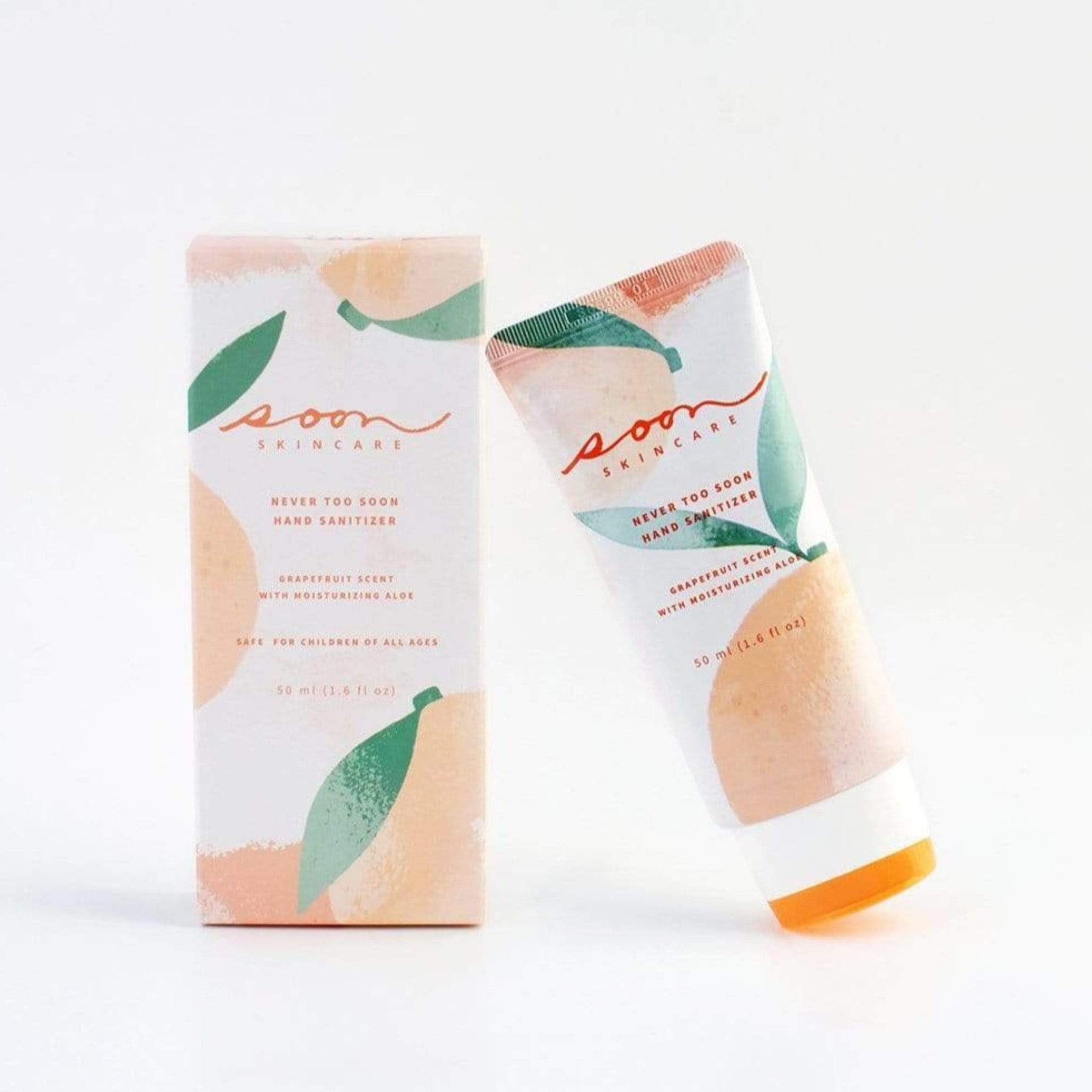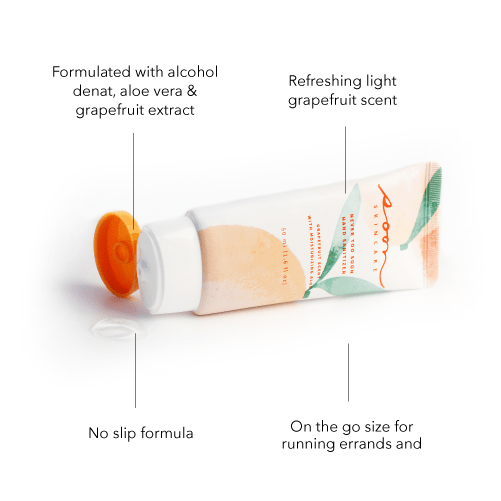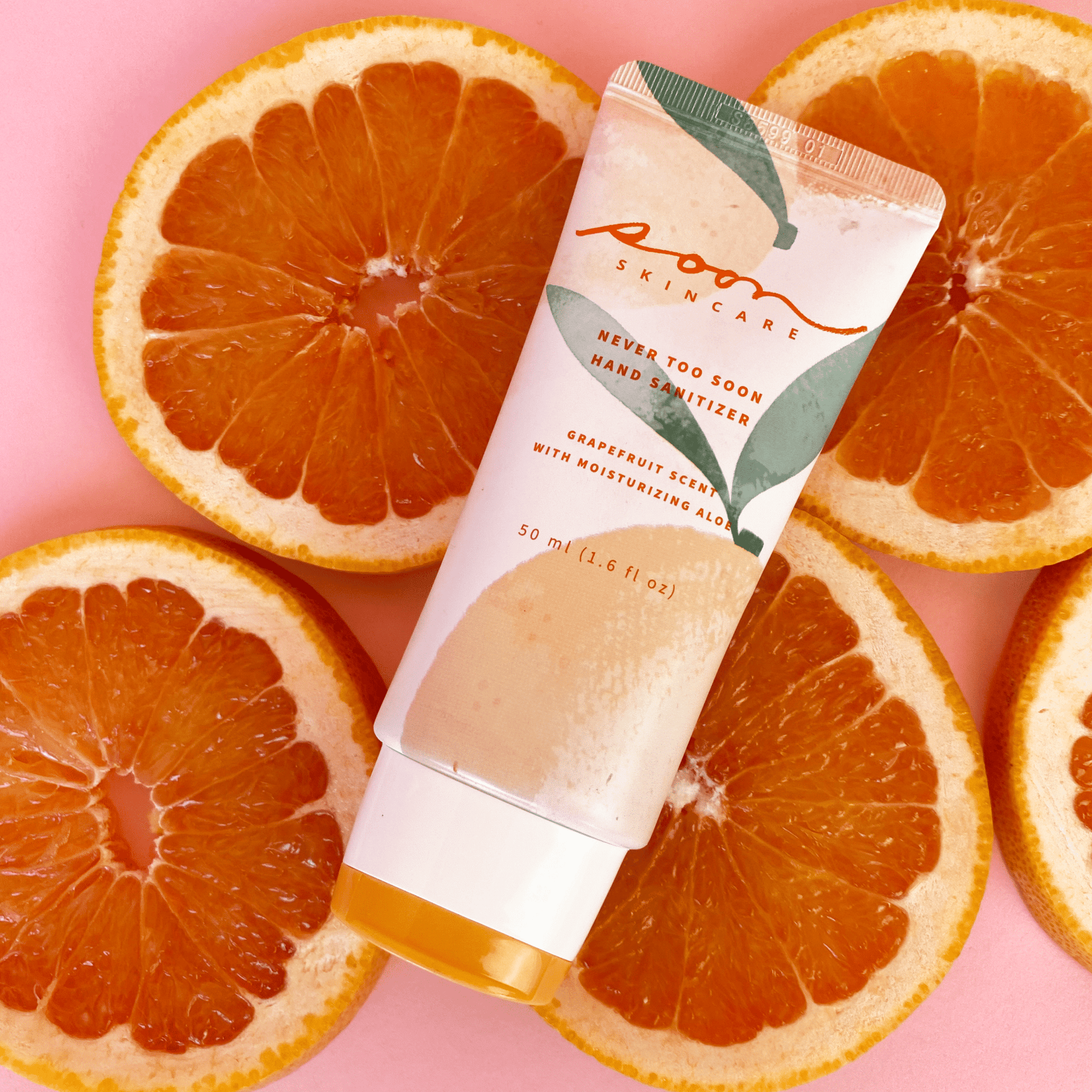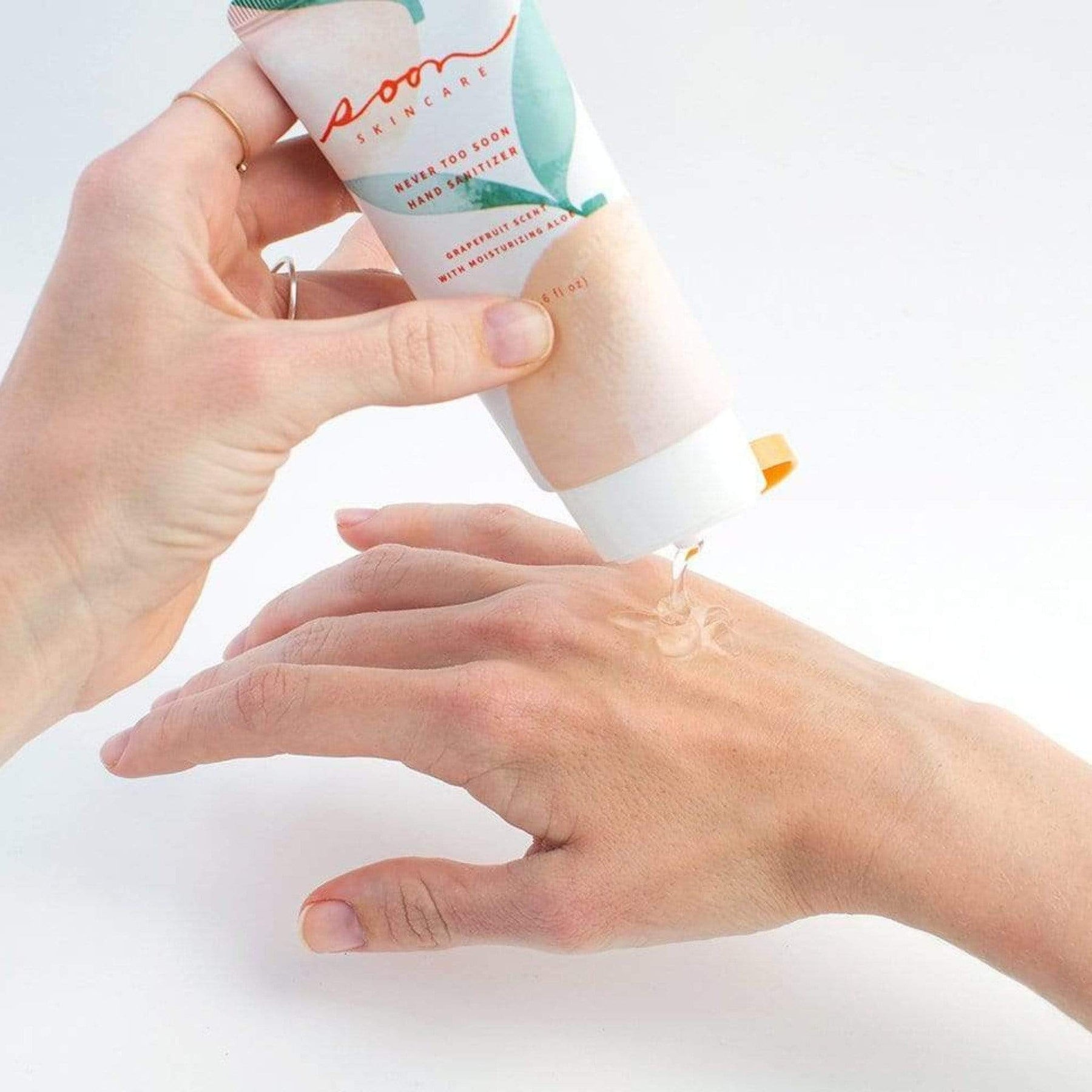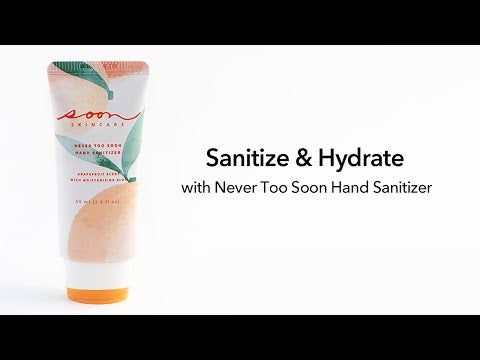 Never Too Soon Hand Sanitizer
This on-the-go gel hand sanitizer kills 99% of germs leaving your hands healthy, hydrated, and with a light scent of grapefruit. Designed with a no-spill cap. this sanitizer won't end up coating the bottom of your bags.
Never Too Soon Hand Sanitizer
A firming sheet mask that lifts, tightens and improves skin texture. This biodegradable and eco-friendly sheet mask is designed to fit all face shapes and sizes, adhering to the skin to firm skin in 20 minutes.

Adenosine, ginkgo nut, and betaine hydrate, and restore the skin's surface to appear vibrant, firmer and smoother, while purslane and niacinamide ward off signs of premature aging and repair cell damage.

This mask is ideal for a weekly at-home facial treatment.
Why it works
Kill 99.9% of germs

Leave hands with a light, refreshing grapefruit scent
How to use
Squeeze a dime-sized amount into palms and rub all over hands. Allow to dry fully for best sanitization.
Ingredients
Aloe Vera – The aloe plant is known to hydrate skin and promote healing, especially of sunburned or damaged skin

Glycerin – A humectant used to moisturize the skin

Alcohol Denat., Water, Glycerin, Butylene Glycol, Carbomer, Triethanolamine, Aloe Barbadensis Leaf Extract, Citrus Paradisi (Grapefruit) Fruit Extract
Customer Reviews
Filter Reviews:
hands
hand sanitizer
quality cap
friend
purse
companies
moisturizing
best
none
plus
Jessica D.

United States
07/07/2021
A good hand sanitizer
Honestly, I bought this primarily for the pretty box/tube. However, the hand sanitizer itself works pretty great! I have enjoyed having this in my bag during this pandemic and I could see myself using it even after conditions improve. I appreciate how it is gentle enough that my hands do not burn after use. The grapefruit scent is not too distinguishable yet that is not a bad thing. I like that it does not smell too strongly of alcohol. A plus to this is that anytime I got out the tube to let a friend use it, they all complimented the bottle and then the hand sanitizer itself! And, I love the pun with the brand name. All in all, I enjoy this and I would happily buy it again! Thank you!
Emilia H.

United States
06/11/2021
Best mask for my sensitive skin
I totally love this product and can't recommend more!
kim e.

United States
01/11/2021
Great hand sanitizer
I love this hand sanitizer it's so easy on the hands, doesn't dry your hands and smells delicious!!!
Jessica E.

United States
12/31/2020
Best Sanitizer!
This doesn't have that weird smell most sanitizers have, and it doesn't dry my skin out or make it feel sticky. It also has a great container with a quality cap that closes securely, rather than cracking or popping open in my bag like most sanitizers. Will be stocking up!
Katie M.

United States
12/13/2020
Thick and moisturizing
This is a great quality hand sanitizer. It doesn't dry my hands out, and has a slight scent that isn't overwhelming!
Mary

United States
09/15/2020
Highly recommend!
This is the best hand sanitizer out there! It doesn't leave your hands sticky or slimy. My hands feel great after using it...nice and soft! It's pretty packaging is a plus, too!
Rebecca A.

United States
08/28/2020
Not impressive
Didn't feel like this item was any different than my $2 hand sanitizer from Trader Joe's. The cap doesn't close very well either and spilled all over my purse. The fragrance is way too dull and couldn't really smell it and my skin wasn't super soft either. Almost like an expensive Purell. But cute packaging.
Amy A.

United States
08/26/2020
Amazing hand sanitizer!!
The Never Too Soon Hand Sanitizer is the BEST available sanitizer. It doesn't leave your hands slimy or sticky. It's not harsh on your hands and it smells great. I have one in my purse and in my car. I highly recommend!
Robin Z.

United States
08/18/2020
Best hand sanitizer!
Love how this is not sticky and lightly scented.
Brooke S.

United States
08/17/2020
A hand treat that happens to sanitize
I loved that the product felt super clean going on, and I felt my hands were clean but, when the product left my hands feeling lightly moisturized I was IMPRESSED. Many companies have tried to make moisturizing/sanitizing products before, but none that have left my hands feeling actually clean, not sticky and fresh!
JH

United States
08/13/2020
Love it!
I love this hand sanitizer! It smells fresh and clean, it is gentle on your hands and best of all it is not sticky!! I usually am not a big fan of hand sanitizers because they tend to be a little sticky- but tried this one and love it!!