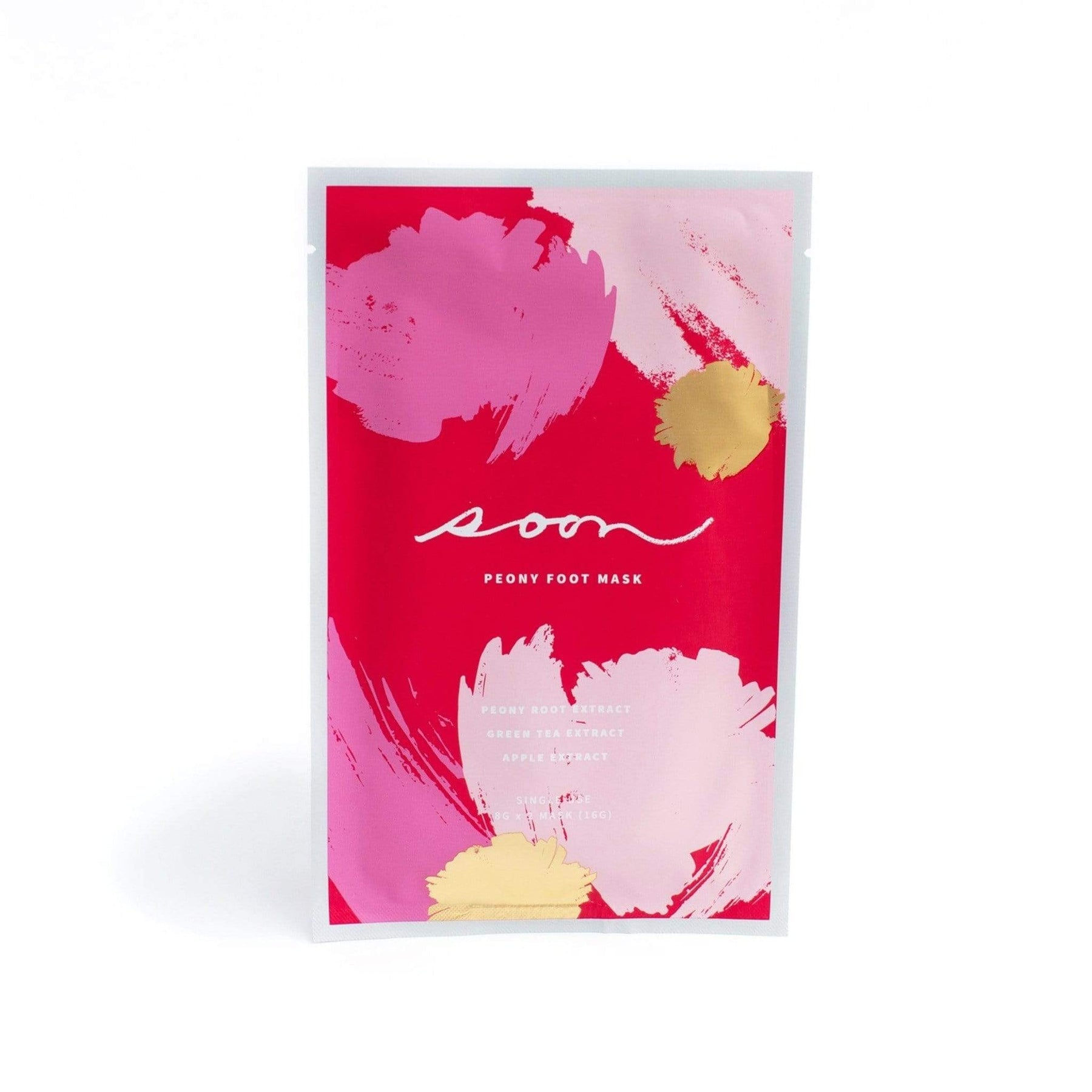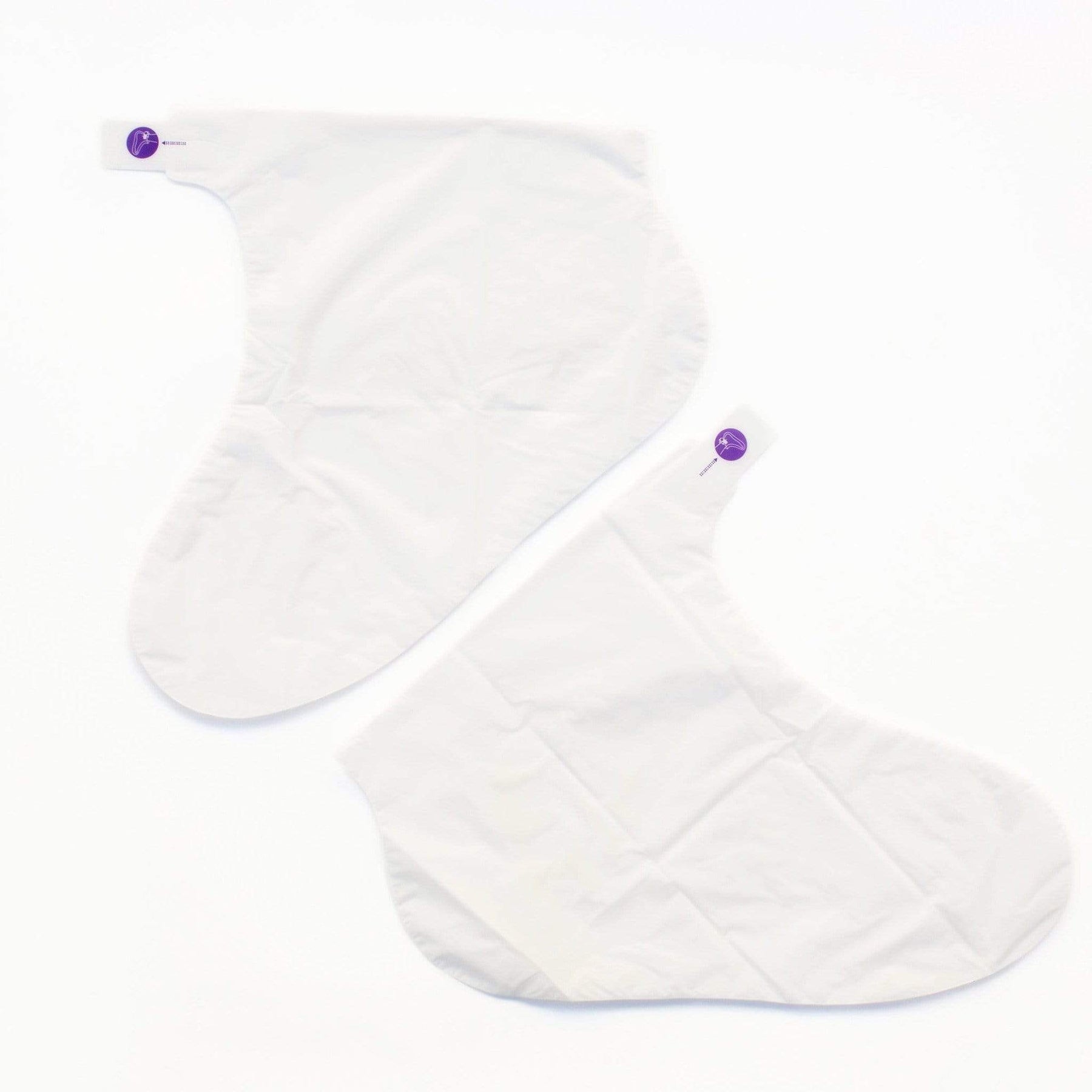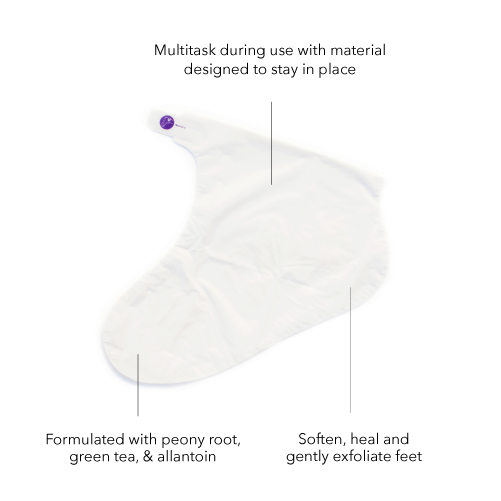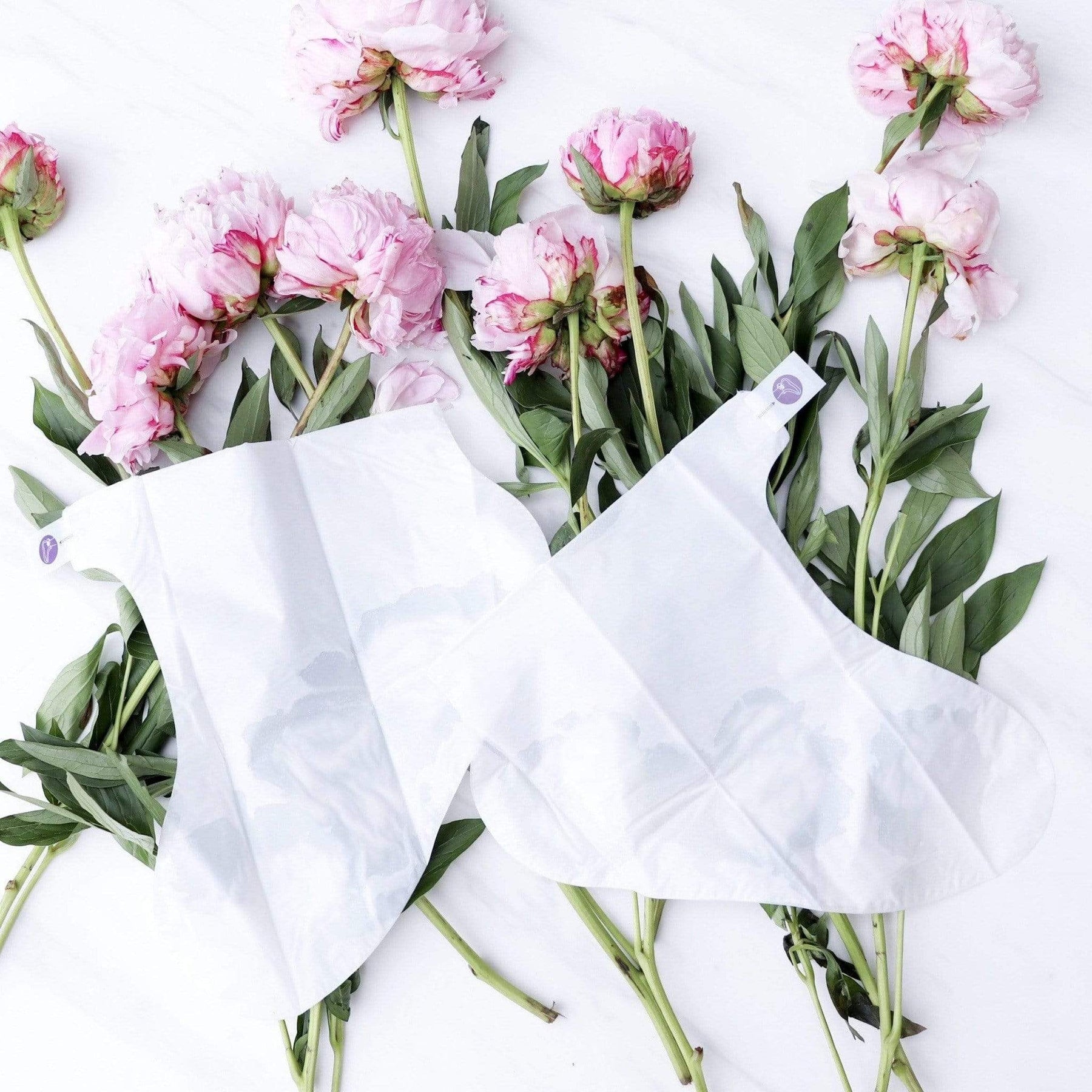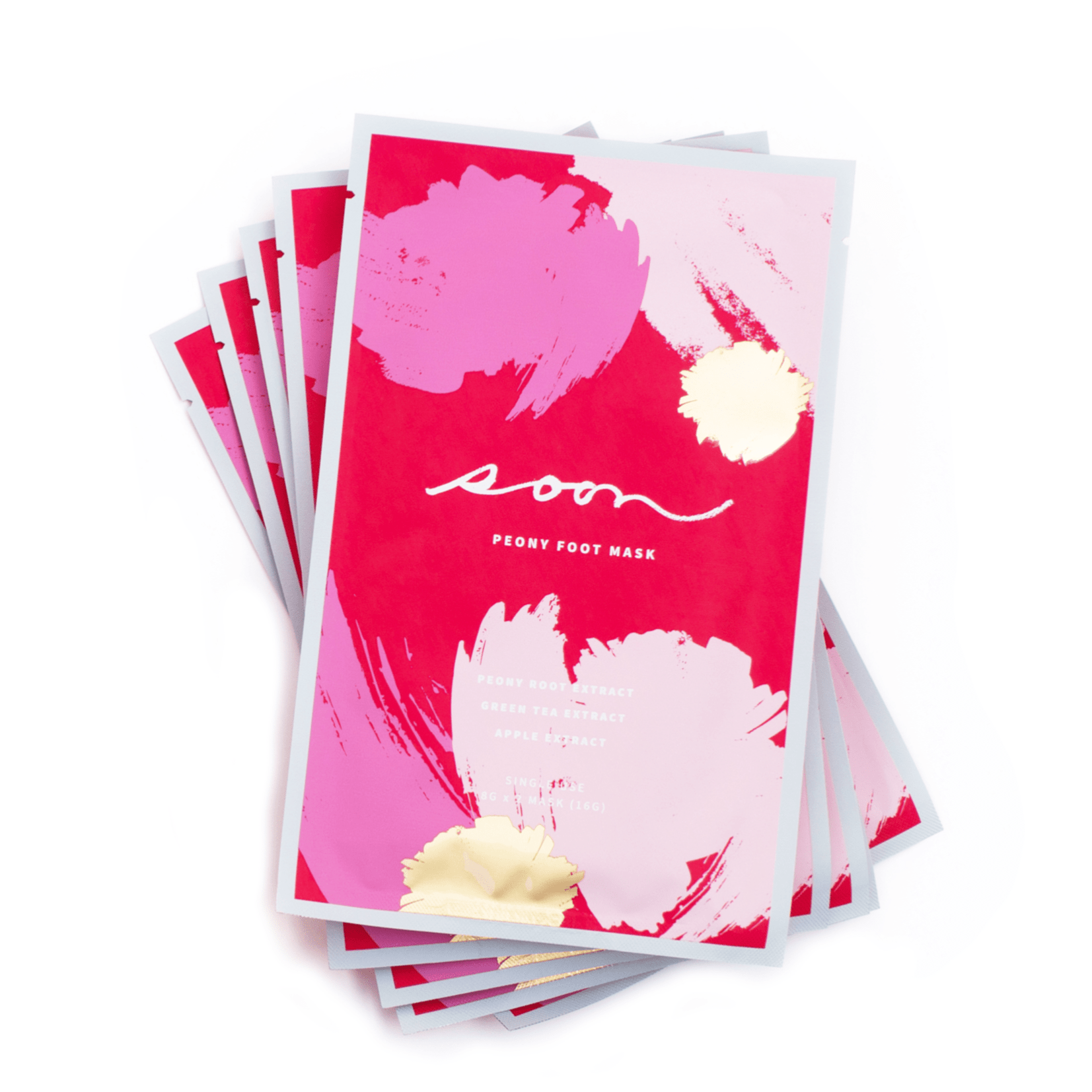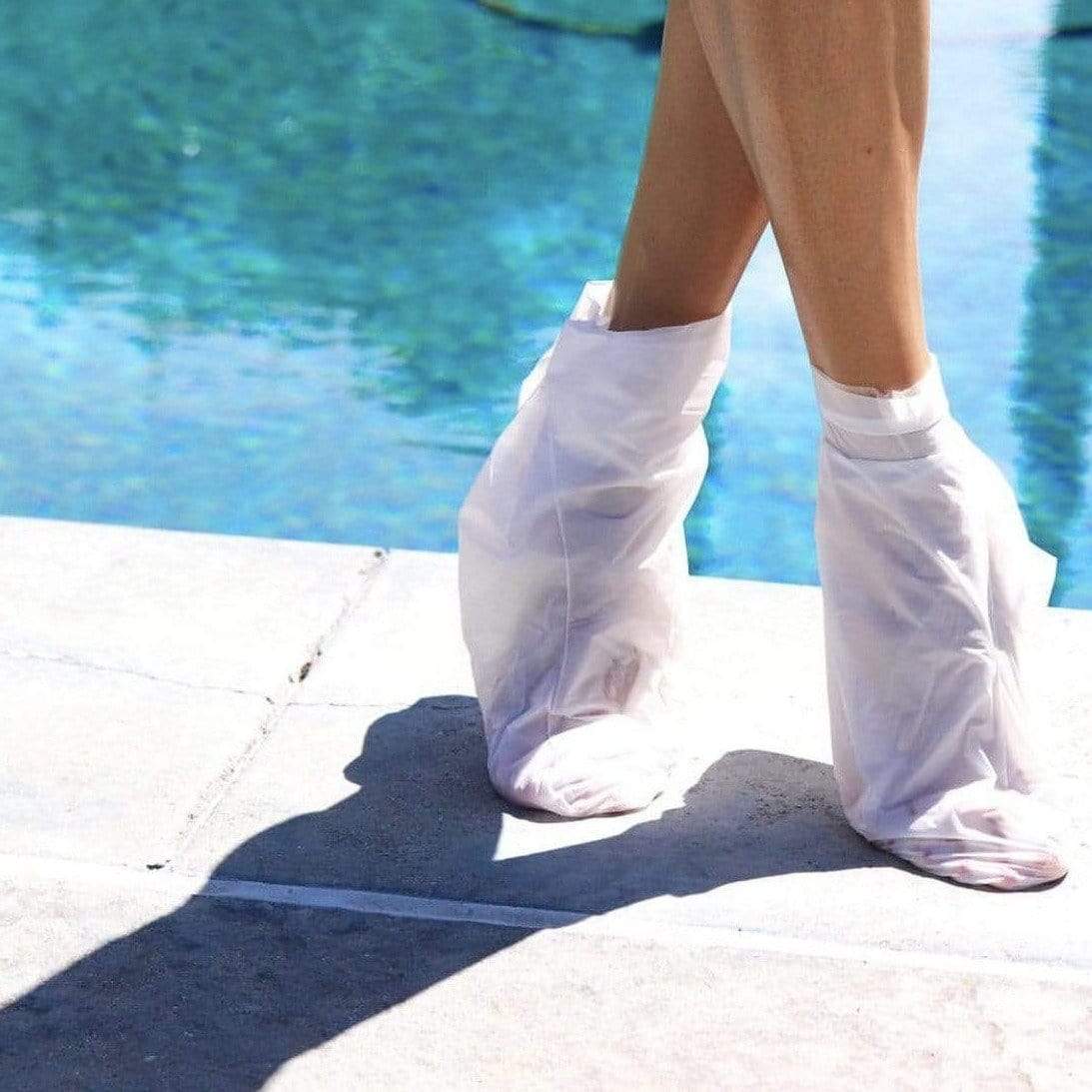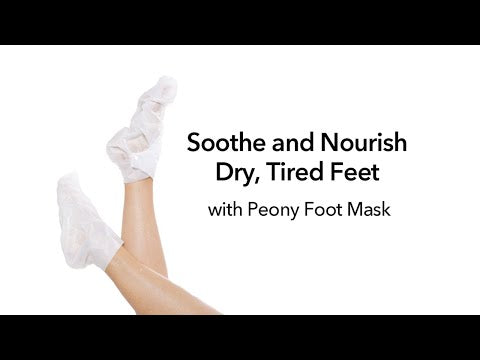 Peony Vegan Foot Mask
These one-size-fits-all booties are designed for multitasking while you mask. Soften, exfoliate and keep your feet healthier and happier all year round.
Hydrate and moisturize your feet with our peony vegan foot masks.
Seal booties with an easy-to-close tab, preventing serum from dripping. The masks are designed to fit and stay-on feet of all sizes, which allows you to multitask while you mask.

Green tea and allantoin soften and soothe skin, while peony root works to moisturize and remove dead skin cells, exfoliating the feet. Additionally, ginger root and licorice root contain antifungal and antibacterial properties that help keep feet healthy.
Why it works
• Protect and heal cracked skin with ginger root
• Destress and soothe tired feet with licorice root
• Brighten, moisturize, and heal skin with peony root extract
• Improve skin smoothness and combat signs of aging with allantoin

Before and after
Clinical trial conducted over two-week period, with product used every other evening.

How to use
Clean and dry feet

Open pouch, separate booties, and slip them on each foot

Use tab to seal booties across ankles

Leave on feet for 15–20 minutes

Remove booties and pat serum into feet
Ingredients
Peony root extract: An antioxidant that has shown results in brightening, moisturizing, and regenerating skin. Peony Root also has shown anti-inflammatory benefits that has been used for healing skin for centuries.
Green tea extract: A gentle antioxidant that has shown improvement in the appearance of sun damaged skin. Its nutrient-rich polyphenols help fight free radicals and slows the signs of aging.

Allantoin: Derived from plants, is a gentle moisturizer (ideal for sensitive skin) that also helps improve skin's smoothness, and promotes healing. Especially beneficial for facial and acne scarring. Promotes cell longevity, which helps combat visible signs of aging.

Hyaluronic Acid: (Sodium Hyaluronate) Naturally occurs in skin, aids in hydration and retaining moisture in the skin. It is known for being the most effective skincare ingredient for holding moisture. It also helps, smooth, soften, and plump skin.        

Water, Glycerin, Butylene Glycol, Caprylic/Capric Triglyceride, Urea, Alcohol, Cetyl Alcohol, 1,2-Hexanediol,Glycereth-26, Polyglyceryl-3 Methylglucose Distearate, Glyceryl Stearate, Stearyl Alcohol, Paeonia Suffruticosa Root Extract, Arginine, Carbomer, Myristyl Alcohol, Zingiber Officinale (Ginger) Root Extract, Schizandra Chinensis Fruit Extract, Coptis Japonica Root Extract, Camellia Sinensis Leaf Extract, Glycyrrhiza Glabra (Licorice) Root Extract, Ethylhexylglycerin, Allantoin, Xanthan Gum, Lauryl Alcohol, Salicylic Acid, Caprylyl Glycol, Dipropylene Glycol, Sodium Hyaluronate, Pyrus Malus (Apple) Fruit Extract, Mentha Rotundifolia Leaf Extract, Melaleuca Alternifolia (Tea Tree) Leaf Extract, Hamamelis Virginiana (Witch Hazel) Leaf Extract, Fragrance
Customer Reviews
Filter Reviews:
feet
masks
pedicure
heels
strawberry lip masks
everything
husband
skin
foot mask
boyfriend
Susan

United States
12/26/2022
Great foot mask
Love these! Smell wonderful and feel great on the feet leaving them hydrated and soft! I got as a Christmas present and will buy more!
Skincarelover

United States
09/08/2022
So Smooth and Moisturized!
These are incredible! Your feet feel so smooth and moisturized. I was encouraged by the clinical results and really saw them with my own skin! This is also a great gift and I love that you can try one...but you should definitely buy the 5! It's worth it!
Beenish J.

United States
07/15/2022
Mrs B
It's such a wonderful foot mask so hydrating .I highly recommend this product
Krysta C.

United States
07/06/2022
Summer Essentials
Easy to use and oh so relaxing!
Janet S.

United States
06/18/2022
Food mask
Love these for my feet! They leave them so smooth!!
Nicole B.

United States
04/11/2022
Love, Love, Love!!
These are the best foot masks I have ever used. They help with dryness and soften my heels but what I love the most is the smell. Love these and will continue to purchase.
EUNICE P.

United States
08/24/2021
Yaaaas
Loved the fragrance!
Nicole P.

United States
07/29/2021
Lovely and refreshing!
I used this foot mask prior to attending a wedding—it did a great job of revitalizing my feet before wearing heels for the first time in ages. It felt like a very cool, refreshing moisturizer for my feet. A great way to care for them!
Kandis S.

United States
06/28/2021
Definitely good!
Loved the foot mask. Bought some for my daughter too.
Heather W.

Canada
05/21/2021
Foot masks a must for dry feet
I love these. A nice relaxing foot soak then the booties make everything feel so smooth.
linda g.

United States
05/06/2021
So necessary for sandal season
I love how this makes my feet feel. Perfect to use right after a pedicure or using a scrub of some kind.
Kellie K.

Canada
04/24/2021
Amazing Foot Product
These foot mask "Poeny Foot Mask" are a remarkable product. I have very dry, crack feet. I tired this product and after once use, there was such a difference. Well worth the money and cheaper than a pedicure. I will highly recommend this product.
Katelyn K.

United States
03/16/2021
Love these masks
After marathon training for a few years, my poor feet have been a bit beat up and definitely needed some love. These feet masks have been so great for hydrating my skin and especially nails, which is a big deal for running feet!
evann p.

United States
01/29/2021
foot mask
Delightfully suprised!!!!!
Denise T.

United States
01/13/2021
Beautiful Feet Forever!!
I am thrilled with your Peony Foot Mask! Not only vis the peony my favorite flower scent, but the product itself is excellent. It is quite easy to use and the softening effects are quick and lasting. I have tried so many of these foot products and none have been satisfactory! Peony Foot Mask is Extrordinary and I love it! Age is 55-64.
Kelli G.

United States
11/26/2020
I'll let you know when it finally arrives
I'm sure it's due to COVID but the product hasn't arrived.
Hi Kelli, I just checked the tracking information on your package, and per the USPS it's showing that it is delayed but still in transit. For more information please email hello@soonskincare.com. Thanks for your patience!
Ebonie D.

United States
08/11/2020
Foot masks
Omg I love these so much . I had been using the strawberry lip masks and several face masks so I decided I would try these next and my feet are so soft after I use them . My boyfriend gives me foot massages all the time and he noticed they were softer ! Love these!!! Will definitely be purchasing more.
tara

United States
07/17/2020
absolutely IN LOVE with these foot masks!
these foot masks smell a m a z i n g !! they are easy to put on & you can actually walk around in them if you need to! I'm not a huge fan of pedicures, so my feet rarely get any love but with these foot masks it's easy to pamper myself while getting smooth feet! My husband has tried them & he also approves :)
Nicole

United States
05/27/2020
Game changer
This is my new favorite gift for friends and family! They smell amazing and work wonders. With COVID and social distancing, I've replaced my monthly pedicure with a weekly foot mask and I may never go back.
Shaley G.

United States
05/26/2020
Peony Foot Mask
I can't live without these foot masks. 10/10 would recommend!