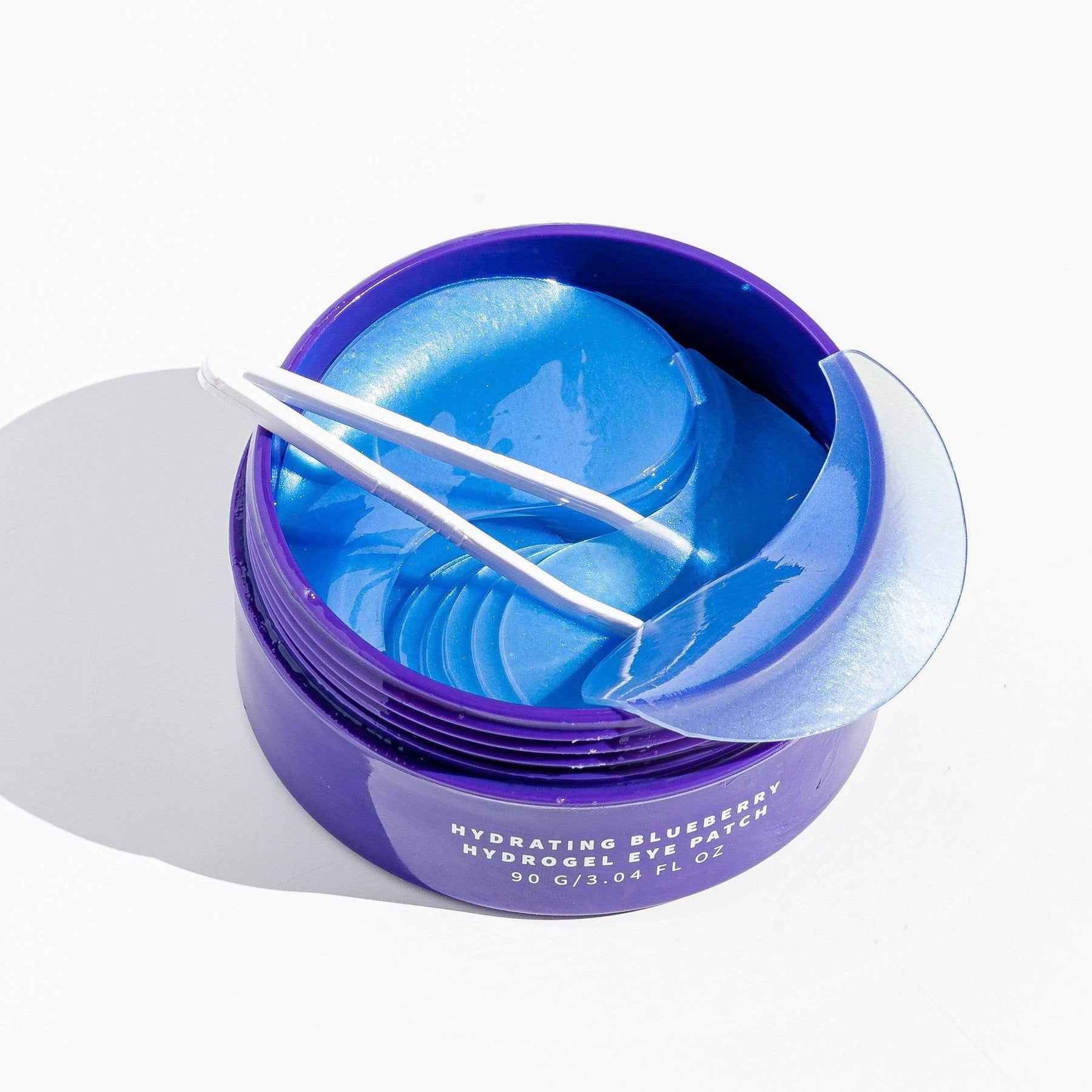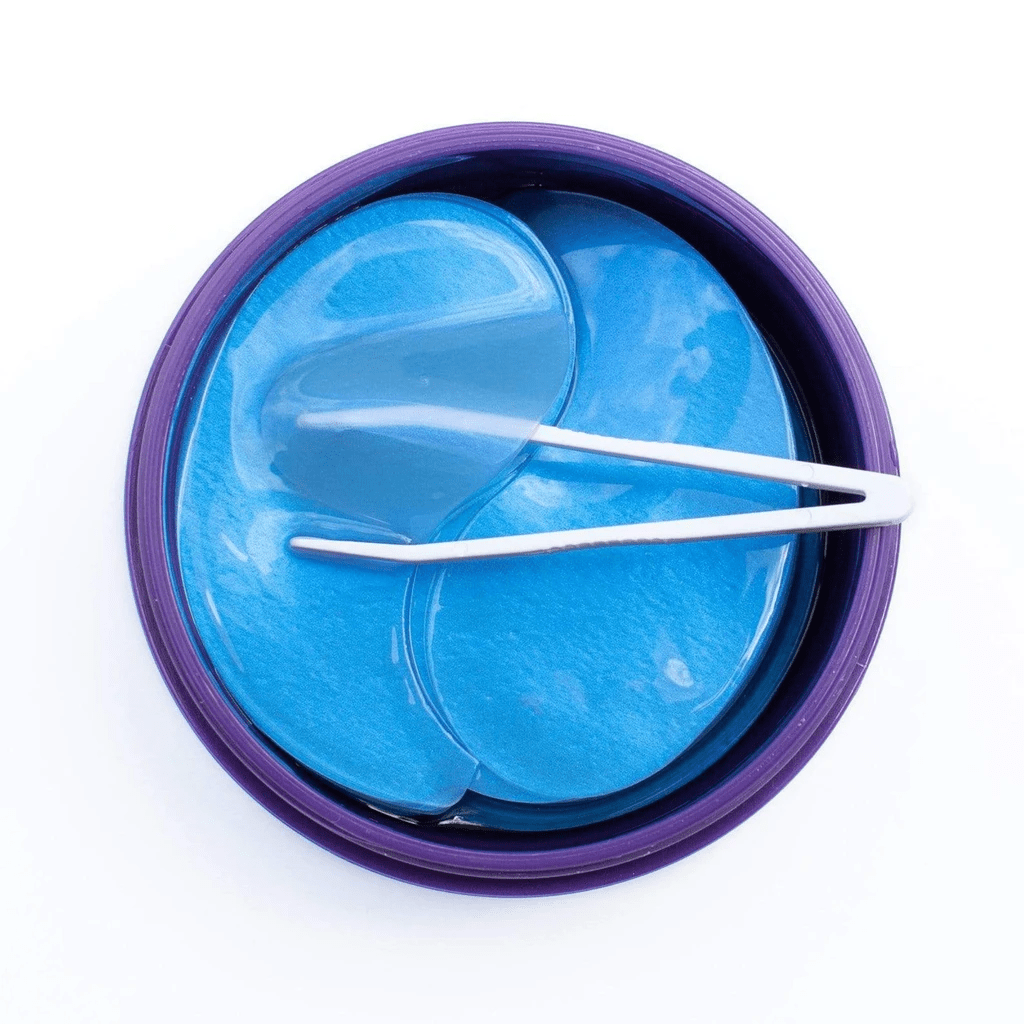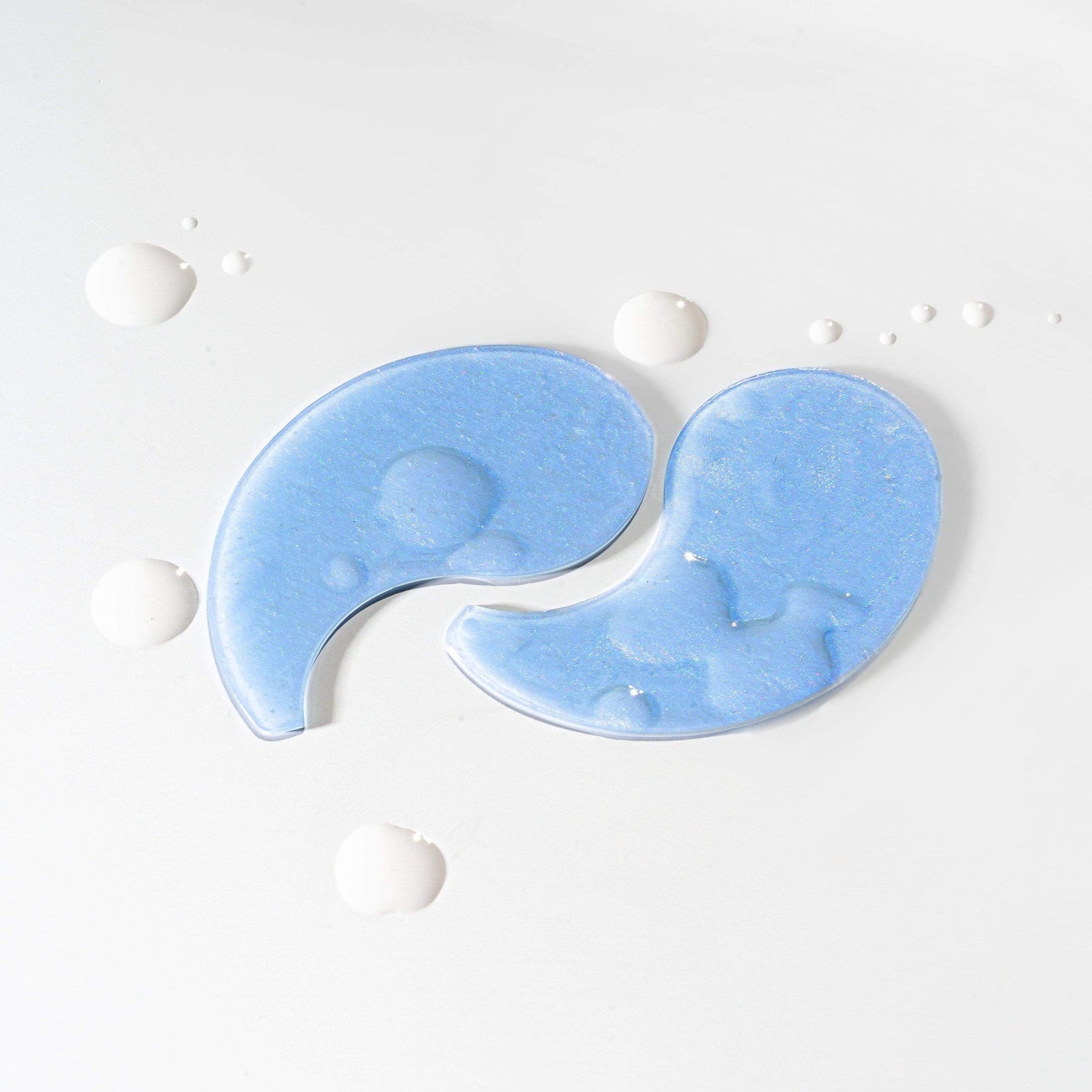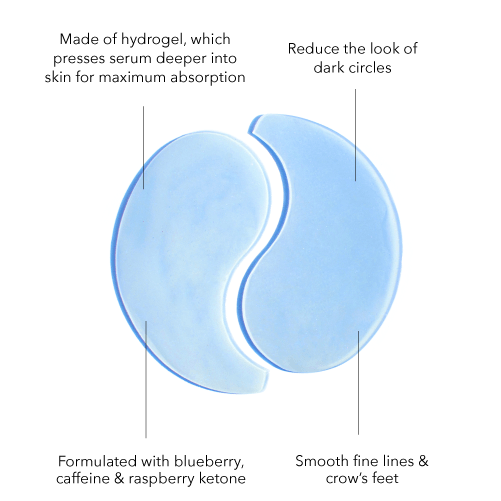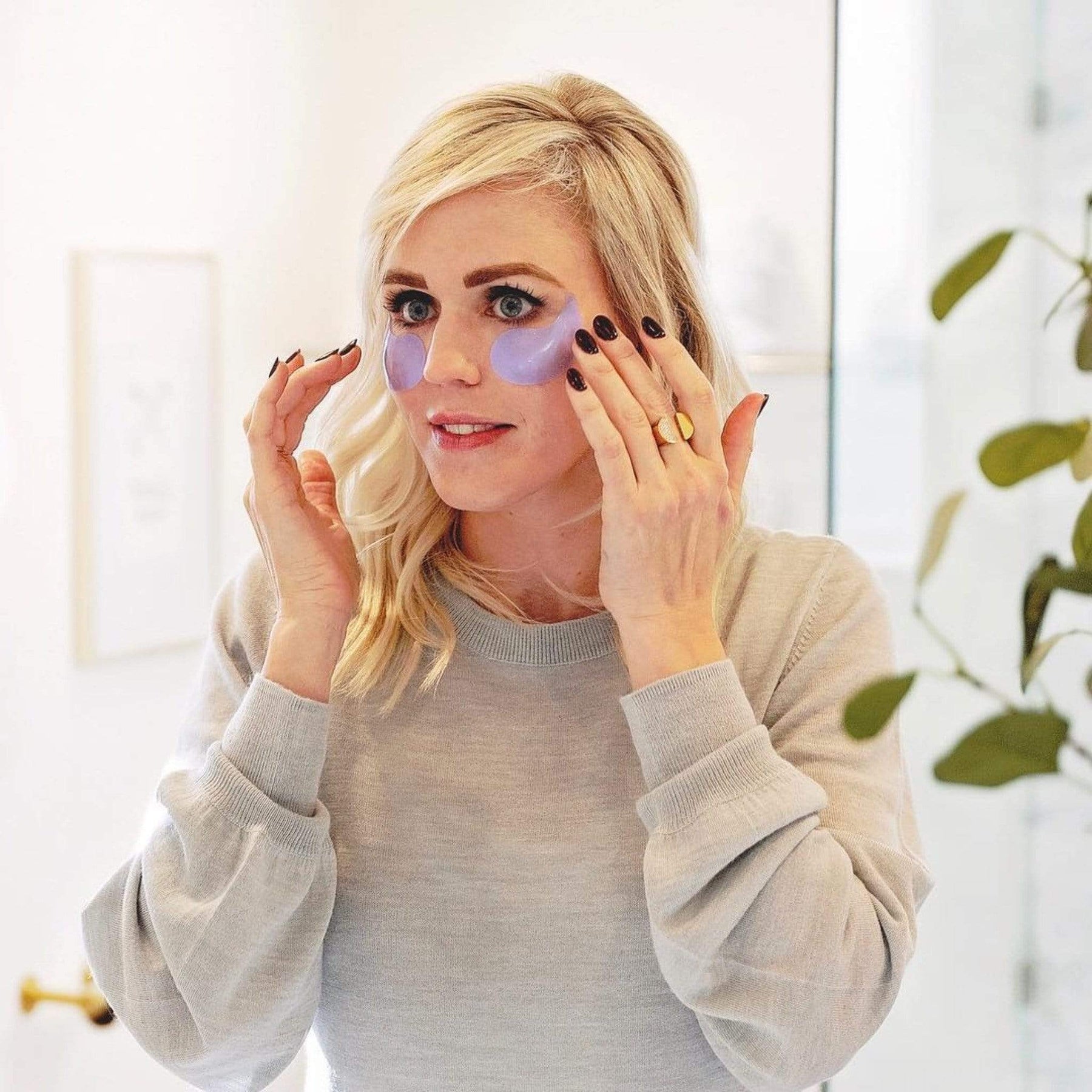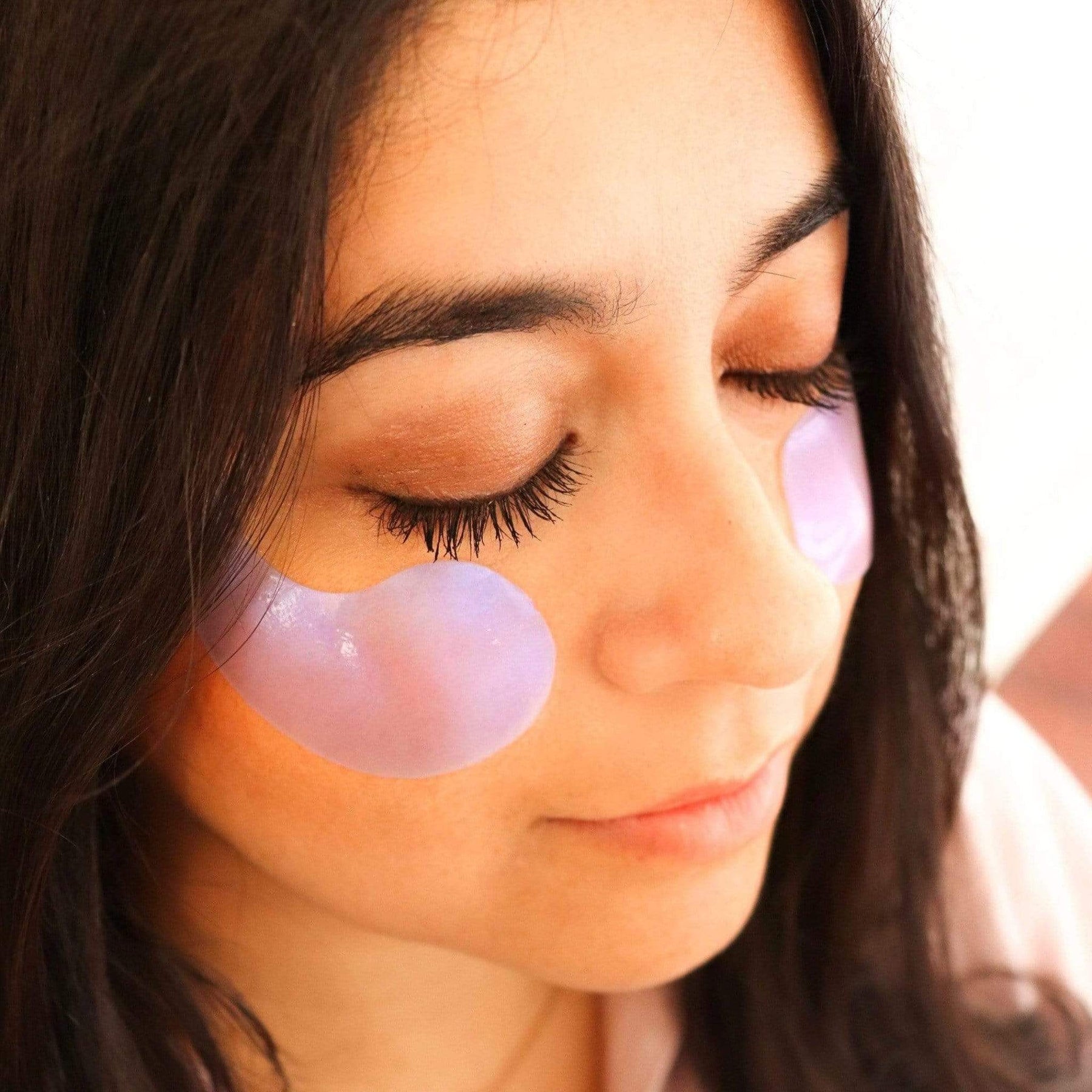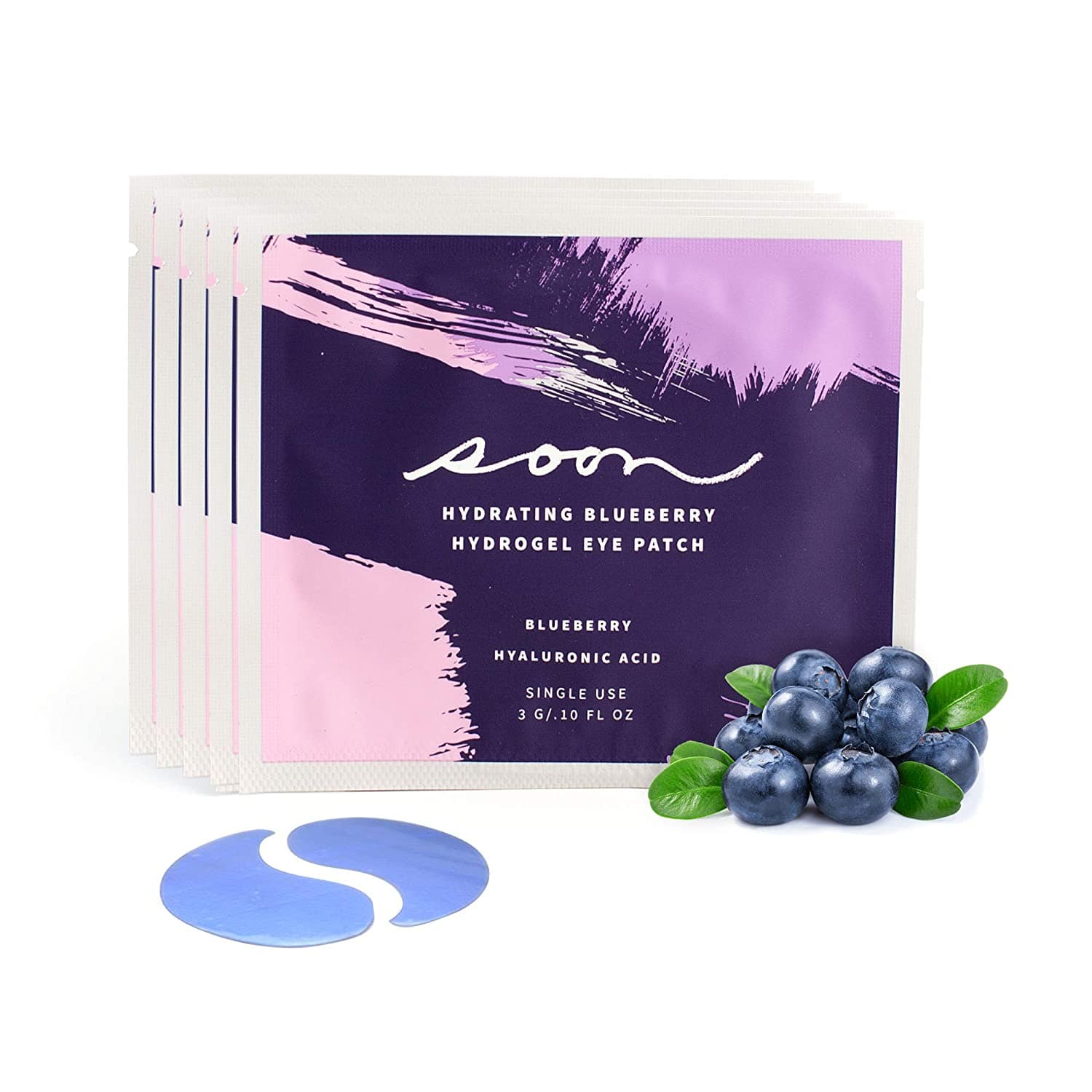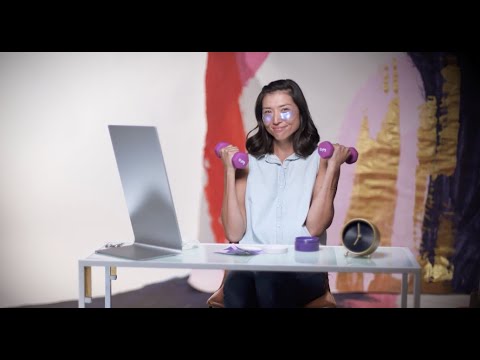 Hydrating Blueberry Hydrogel Eye Patches
Minimize dark circles, combat crow's feet and improve skin elasticity with our biodegradable blueberry hydrogel eye patches.
Hydrating Blueberry Hydrogel Eye Patches
Minimize dark circles, combat crow's feet and improve skin elasticity with our blueberry hydrogel eye patches.

Formulated with blueberry to reduce dark circles and caffeine to energize and brighten your under eyes, our biodegradable eye patches leave your under eyes refreshed. Being blue never felt so good.
Why it works
Minimize crow's feet and increase blood flow with caffeine

Reduce dark circles with blueberry

Soothe, hydrate, and refresh with allantoin
How to use
Cleanse and dry your face

Place one eye patch beneath each eye

Leave patches on face for 15–20 minutes

Remove patches, discard or compost, and pat serum into face
Ingredients
Blueberry: Blueberry is an antioxidant that brightens skin, minimizes the appearance of wrinkles, and works as a natural exfoliant to remove dead skin cells. 

Caffeine: Caffeine is an antioxidant that protects skin against free radicals. Caffeine effectively reduces the look of dark under-eye circles, fine lines, and wrinkles by stimulating circulation. In the under-eye area, caffeine reduces puffiness and redness.

Raspberry Ketone: Derived from red raspberries, raspberry ketones reduce dark spots and wrinkles, firm and tighten skin, and increases skin elasticity.

Allantoin: A natural ingredient derived from yeast and naturally present in the body. It speeds up collagen production, reduces the appearance of wrinkles, smooths and soothes skin.       


Aqua, Glycerin, Dipropylene Glycol, Chondrus Crispus Powder, Benzyl Glycol, Ceratonia Siliqua (Carob) Gum, Xanthan Gum, Niacinamide, Ethylhexylglycerin, Allantoin, Synthetic Fluorphlogopite, Glycyrrhiza Uralensis (Licorice) Root Extract, Titanium Dioxide(CI 77891), Butylene Glycol, Cyamopsus Tetragonoloba (guar) Gum, Agar, Polyglyceryl-10 Larate, Dipotassium Glycyrrhizate, Ultramarines(CI 77007), Tocopheryl Acetate, Benzyl Benzoate, Adenosine, Raspberry Ketone, Polyglyceryl-10 Myristate, Potassium Chloride, Glucose, Sodium Phytate, Calcium Lactate, 1,2-Hexanediol, Hydrolyzed Collagen, Tin Oxide, Caffeine, Citrus Limon (Lemon) Fruit Extract, Citrus Paradisi (Grapefruit) Fruit Extract, Actinidia Chinensis (Kiwi) Fruit Extract, Pyrus Malus (Apple) Fruit Extract, Vitis Vinifera (Grape) Fruit Extract, Citrus Aurantium Dulcis (Orange) Fruit Extract, Citrus Junos Fruit Extract, Glutathione, Euterpe Oleracea Fruit Extract, Rubus Fruticosus (Blackberry) Fruit Extract, Vaccinium Angustifolium (Blueberry) Fruit Extract, Fragaria Chiloensis (Strawberry) Fruit Extract, Rubus Idaeus (Raspberry) Fruit Extract. Fragrance
Customer Reviews
Filter Reviews:
eyes
puffiness
eye patches
face
difference
undereyes
beauty subscription box
pomegranate eye gels
results
hyaluronic acid
08/04/2022
Patches are wonderful for new moms!
I had twins last year and find that 15 minutes to myself is worth so much for preserving my sanity. Using these patches rejuvenates my mind and my under eyes. They work so well to prevent any dark circles from sleepless nights in my case, but your mileage may vary. All in all so glad I found these!
Stephanie R.

United States
07/07/2022
Love these eye gel patches!
Other brands have irritated my face, but these are gentle and do a nice job of reducing puffiness.
Janet S.

United States
06/18/2022
Best eye mask
I love these blueberry eye patches. I have used them for two weeks now and can tell a difference with my under eye area. Love them!!
Sandra M.

United States
04/25/2022
Refreshing and Hydrating
They feel very nice under my eyes. They feel so refreshing and hydrating. I gave some to my mom and she loved them too. They really helped with her puffiness under her eyes.
Karalyn B.

United States
09/08/2021
Relax and put on your under eye patches
Very calming and hydrating to my under eyes. Great to use if you need a pick me up for your face in the morning or just to wear while you are relaxing.
Pat W.

United States
09/03/2021
Just OK
These patches are ok. They do hydrate my under eye area, but do nothing for the puffiness. I was disappointed. The pink Pomegranate patches do a much better job and I will stick to them.
Cortney H.

United States
06/18/2021
Love!
Love the packaging and product, great gifts!
Janet M.

United States
06/16/2021
Eye patches
Love them, my husband and I where them when we are watching a movie!
Maureen W.

United States
05/31/2021
My little secret after a late night!
These eye patches are my very favorite and I have tried them ALL! Perfect to use in the morning after a late night, or lack of sleep or even when you want that extra bright look!
Katie M.

United States
04/12/2021
Boost for the under eye
Gives some extra hydration to the under eye. Perfect for after a late night.
Allison D.

United States
04/08/2021
Love love love!
Favorite eye patches I have ever used! My eyes are more awake & my under eye darkness improves after using!
Allison

United States
04/08/2021
Feel so amazing!
I love these eye gels. They are super soothing & my eyes are just more awake after using them. Under eye darkness also seems to improve after using them!
Meagan T.

United States
02/15/2021
Blueberry eye patches are a must!!
I love these blueberry eye patches! The hydrate my undereyes so well and make my puffiness and dark circles disappear!!
Allison D.

United States
02/07/2021
Love love love!
Love these eye patches so much! Works great & I love that they are not Individually wrapped saving waste.
Shannon R.

United States
11/01/2020
Great product
I was given a sample and liked the results so much I ordered more. I use them once a week and the results are great.
Tara K.

United States
09/05/2020
perfect little pick me up!
I love these eye patches! As a new mom, they are my go-to for giving myself a little pampering time! I love how they feel out of the fridge -- so refreshing!
Mary B.

United States
08/24/2020
I'm impressed
I've always found that under eye creams and other eye treatments were overrated. Not true in this case! These pads are very hydrating and have a cooling, de-puffing effect. I was surprised just how cooling they felt on, and continued to feel after I removed them. The jar comes with a lot of serum, so I'm saving the pads to reuse when I run out. I'm sure that's not recommended, but Hey, that's just me. I bought the jar with 30 pairs and am glad I did.
Tiffany N.

United States
08/13/2020
Best Eye Masks I've ever used!!!
I got a pair of these in a beauty subscription box and fell in love as soon as I tried them. I have very puffy, dark, undereye bags and I have tried countless serums, creams and eye masks and none of them ever make much of a difference. These blueberry eye patches are incredible! After wearing them for about 25mins my undereyes were bright, hydrated and the puffiness was pretty much gone. These are like little blueberry patches of magic! I came here to buy more but had to write a review first!
Kathryn O.

United States
08/03/2020
Excellent Ingredients!
I love the blueberry eye gels! These are great because they are fun and relaxing to use, but also have great ingredients! Niacinimide, hyaluronic acid, caffeine, and collagen are some of the best ingredients for the under eye area and these have all of them! Your eyes are noticeably brightened and tightened after using these. I am looking forward to trying the pomegranate eye gels too!
Kayla

United States
07/21/2020
I am obsessed
These patches have been amazing for me even after one use. I used them after coming home from the beach having dehydrated slightly burnt under eyes and they helped so much just soothing my eyes and hydrating them. I love keeping them in my fridge.