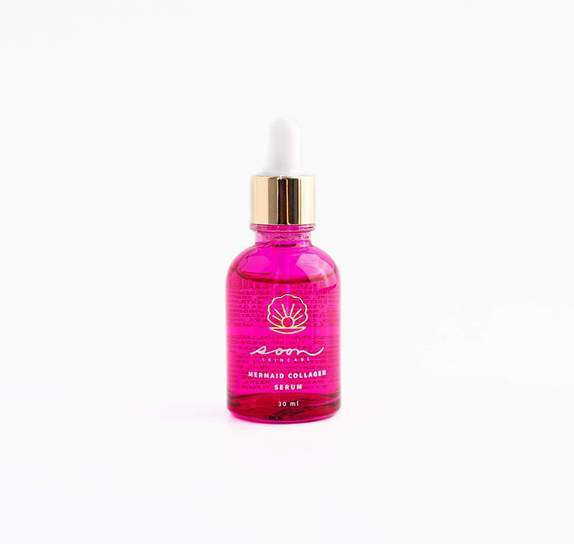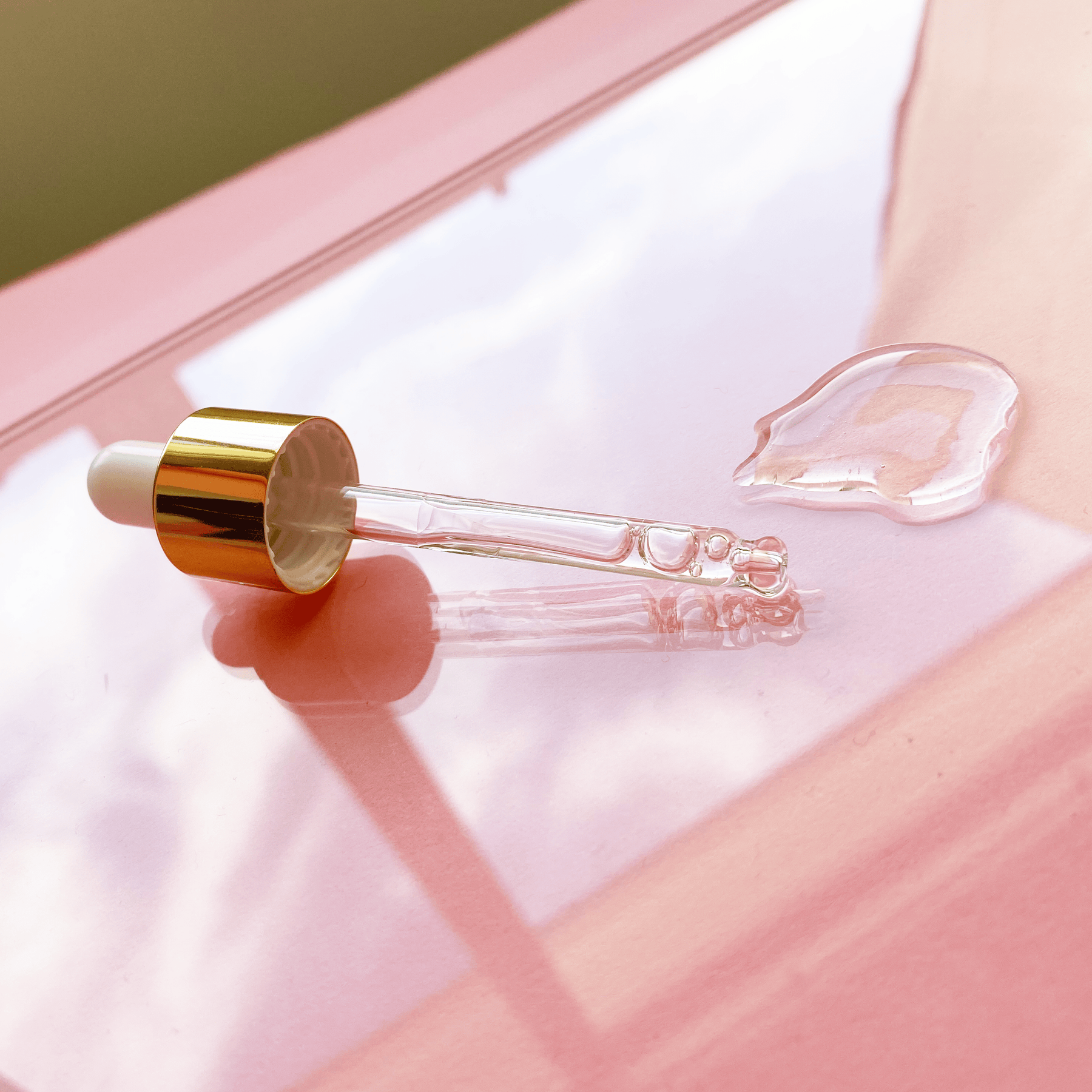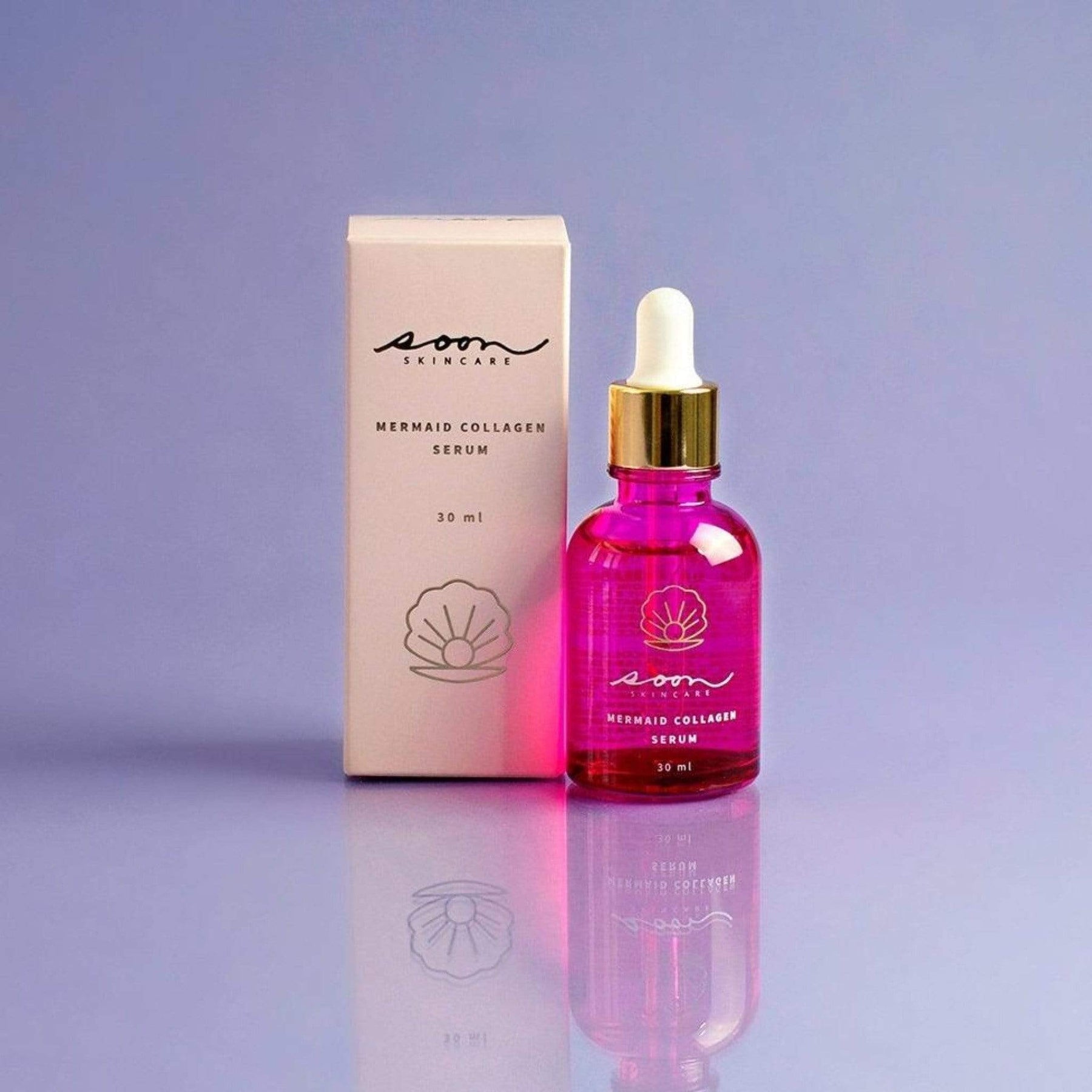 Mermaid Marine Collagen Serum
Restore collagen production, strengthen skin elasticity, and minimize fine lines and wrinkles with our twice daily marine collagen serum. Formulated with 46% marine collagen, our serum penetrates the skin for deep hydration and boosts your body's natural collagen production. No wonder mermaids don't get wrinkles.
Mermaid Marine Collagen Serum
Formulated with 46% marine collagen, this twice-daily hydrating collagen serum works to minimize fine lines and wrinkles, strengthen skin elasticity, and boost collagen production in the skin.

Antioxidant-rich rose extract, allantoin, and aloe vera work to soothe, heal, and reduce redness, while hyaluronic acid boosts hydration and plumps the skin.
Why it works
Plump skin, minimize fine lines and wrinkles, and strengthen skin with 46% ethically sourced marine collagen 

Penetrates skin for deep hydration, formulated with a molecular weight of 200 Daltons to absorb past the skin's surface

Reduce enlarged pores and redness with rose extract and allantoin
Before and after
Clinical trial conducted over four-week period, with product used each evening
How to use
Use daily. After cleansing and toning skin, apply dime-sized amount in an even layer over entire face.
Ingredients
Marine Collagen: Ethically sourced from marine byproducts, Marine Collagen is the most biocompatible type of collagen with your skin, allowing it to absorb quickly and penetrate past the skin's surface. It replenishes your skin's natural supply of collagen, which depletes with age, increasing skin elasticity, smoothing fine lines and wrinkles, boosting moisture retention, and firming skin.
Rose Extract: (Rosa Damascena Extract) Rose extract is an ingredient that is ideal for all skin types. It has anti-inflammatory properties, and has shown effects in helping sooth irritation and redness. There are also studies that have linked Rose Extract to lightening dark spots.

Aloe Vera: The aloe plant is known to hydrate skin and promote healing; especially of sunburned or damaged skin.

Allantoin: Derived from plants, is a gentle moisturizer (ideal for sensitive skin) that also helps improve skin's smoothness, and promotes healing. Especially beneficial for facial and acne scarring. Promotes cell longevity, which helps combat visible signs of aging.

Hyaluronic Acid: (Sodium Hyaluronate) Naturally occurs in skin, aids in hydration and retaining moisture in the skin. It is known for being the most effective skincare ingredient for holding moisture. It also helps, smooth, soften, and plump skin.

Hydrolyzed Collagen, Rose Extract, Water, Butylene Glycol, 1,2-Hexanediol, Glycerin, Trehalose, Betaine, Aloe Barbadensis Leaf Extract, Carbomer, Arginine, Allantoin, Sodium Hyaluronate, Zanthoxylum Piperitum Fruit Extract, Pulsatilla, Koreana Extract, Usnea Barbata (Lichen) Extract, Propylene Glycol, Hamamelis Virginiana (Witch Hazel) Extract, Dipotassium, Glycyrrhizate, Beta-Glucan, Polyglutamic Acid, Carica Papaya, (Papaya) Fruit Water, Camellia Sinensis Leaf Extract, Anthemis Nobilis Flower Extract
Customer Reviews
Filter Reviews:
skin
serum
bottle
Mermaid Collagen Serum
love
face
difference
glow
Mermaid
people
Lisa

United States
08/26/2022
Incredible
This is the best serum I've ever used.
Carol H.

United States
06/30/2022
Love the mermaid serum!
I love the mermaid serum! It really brightens my skin tone that has dulled with age and helps improve the appearance of wrinkles.
Amber T.

United States
05/23/2022
Love love love!!
I have been using this for a few weeks and can already see a difference! My skin is more even, more awake, and brighter! Can't recommend enough.
Mandy r.

United States
05/23/2022
This feels amazing on my sensitive skin
It's been a week that I started using Mermaid Marine Collagen Serum.I am seeing difference already. My skin feels much more smooth than before and the glow is noticeable. I will soon be spreading the word on social media so that more and more people get to know about them gem. So happy and fortunate that I got to try this one.
Terese B.

United States
05/17/2022
So smooth and soft!
Only been using the serum for a week and I see a difference! I love how smooth and soft the serum goes on. Highly recommend!
Nicole B.

United States
04/11/2022
Love this!
I have only been using this serum for a week but I already love it! I have been doing nano needling at home (which helps enhance product absorption) and this is the perfect serum to use after the nano needing. There really isn't a smell to this product but it goes on smoothly and a lot goes a long way. Also, it gives me a beautiful glow and I have seen a little improvement already with my redness. The bottle is beautiful as well. I will purchase again.
Brittany S.

United States
02/18/2022
MERMAZING!
I am currently on my 4th bottle of the mermaid collagen serum and I am absolutely IN LOVE. I can't go without it. It moisturizes like no other and it's improved my skin quality SO MUCH. I've definitely noticed fine lines and acne scars diminishing. I get so many compliments on my skin. I've literally had people ask me if I got Botox! This serum is incredible!
Quincie J.

United States
11/27/2021
Collagen serum/Soon skincare
Love Soon skincare masks (especially for the eyes) and the mermaid collagen serum! Worth the price tag! I also really appreciate the responsiveness of the brand, I've asked tons of questions over the last few years just on Instagram through messages and they're always prompt to respond. Great brand! Definite recommend to anyone looking for some quality skin care product.
Chareese R.

United States
09/06/2021
Soft and smooth
Love the mermaid serum! I use it every morning and night. It keeps my face hydrated and looking fresh.
Whitney H.

United States
07/20/2021
Amazing stuff!!!
I can NOT go without my Serum! I also reccommend it to everyone I know!
Sandra E.

United States
06/23/2021
Amazing!
I am absolutely in love with soon skincare every product I try it's amazing. The mermaid collagen serum it's incredible it leaves my skin soft and moist. It's been 2 weeks since I've tried it and I love it.
Alia K.

United States
06/08/2021
Can never stop loving it
Im addicted to this. Its my third bottle and im in love. Im a mermaid all the way xoxo
Maureen W.

United States
05/31/2021
Liquid GOLD!
This collagen serum has magical powers. It plumps, hydrates, and leaves a gorgeous glow. I started receiving compliments after using this product for only a few days and people are still asking me what I am doing weeks later!
Chareese R.

United States
04/14/2021
So fresh
Love love love the Mermaid serum. I had two dermatologists tell me my skin looked amazing for my age and wanted the mermaid Secret!
Michelle A.

United States
04/07/2021
YOU NEED THIS!
I am obsessed people. This serum is amazing. I am a licensed esthetician and I have tried so many different serums. This one is amazing, my skin has NEVER felt better. It is so hydrated, silky smooth. My makeup goes on so well and it is amazing. I use it morning and night. If you are thinking about getting this, DO IT. You will also be so obsessed.
Aura L.

United States
03/16/2021
Let's be mermaids!
Excellent, moisturizing and leaves me glowing. The best result though is reduction of my hyperpigmentation! I love it!
Alia K.

United States
03/13/2021
Call It Magic
This is my favorite. I started using it for 7 days and already ordered my second bottle. My skin is firmer and it feels fuller as im a skin girl and working doctor during this pandemic so this has given me a boost despite all the crisis im living in
Clarissa F.

United States
03/11/2021
Love this!
I am loving using this product! I can already see a difference! Totally reccommend!
Alia K.

United States
02/19/2021
Im a mermaid
Love it... the feeling of my skin when i apply it. My skin glows and i feel my face is fuller, i always worry if i will break out when i use something new but nope i didnt. All seems cool
Sofia P.

United States
01/31/2021
Loveee
Loved my fresh skin & glow, so great as a base for a make up.