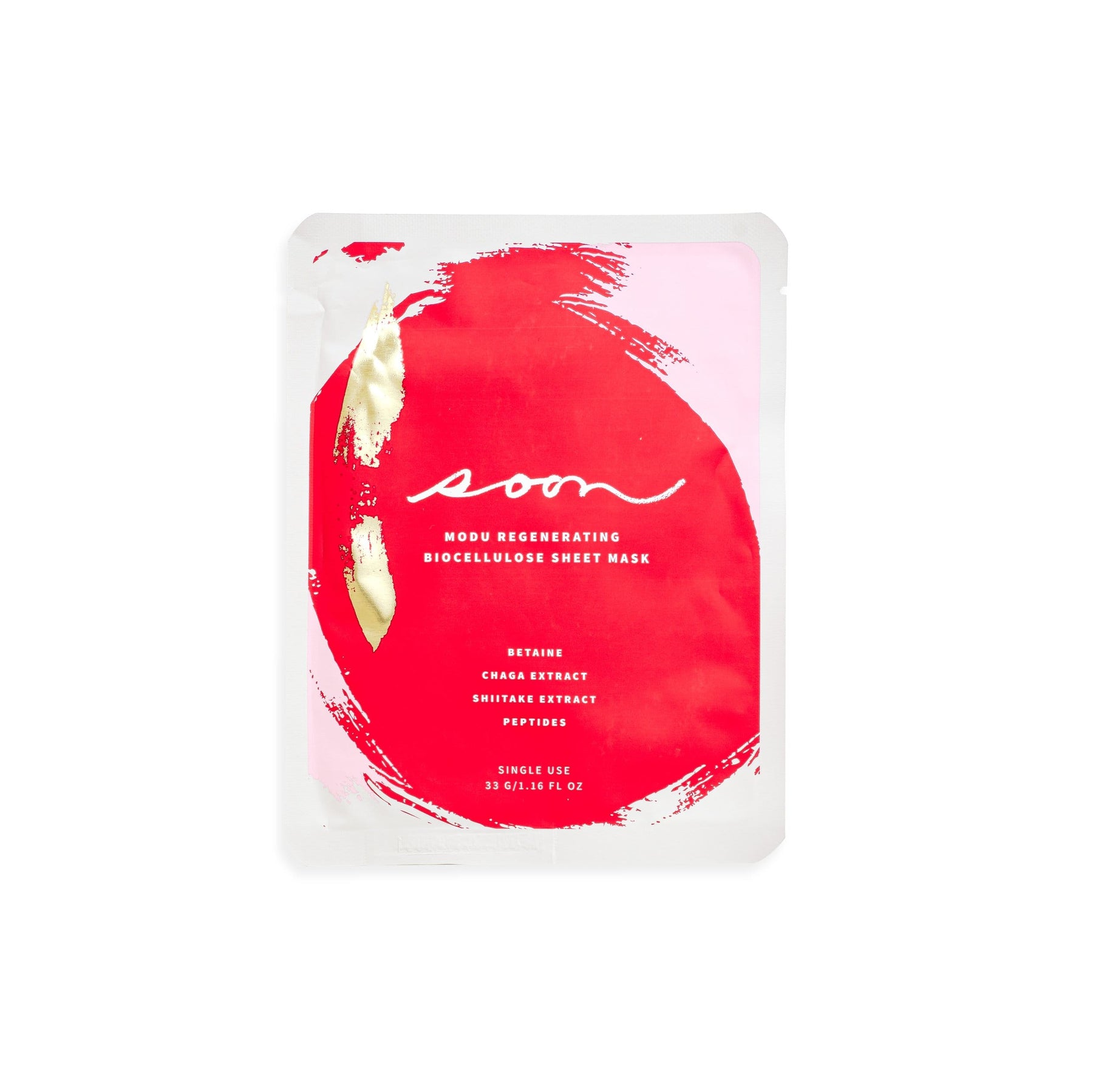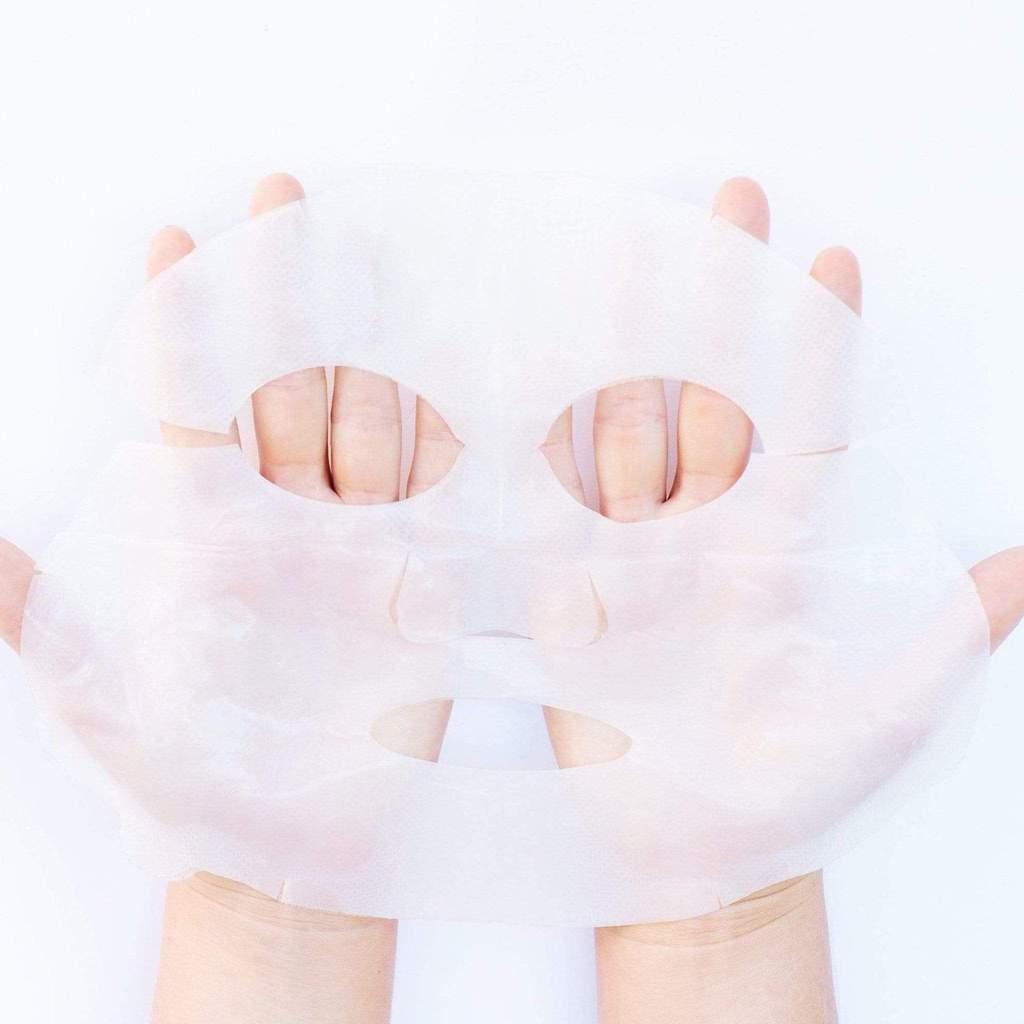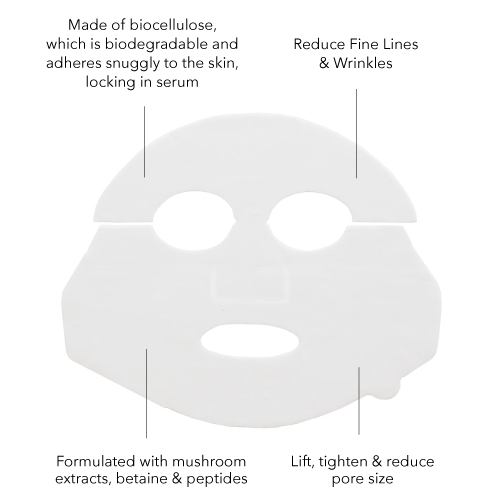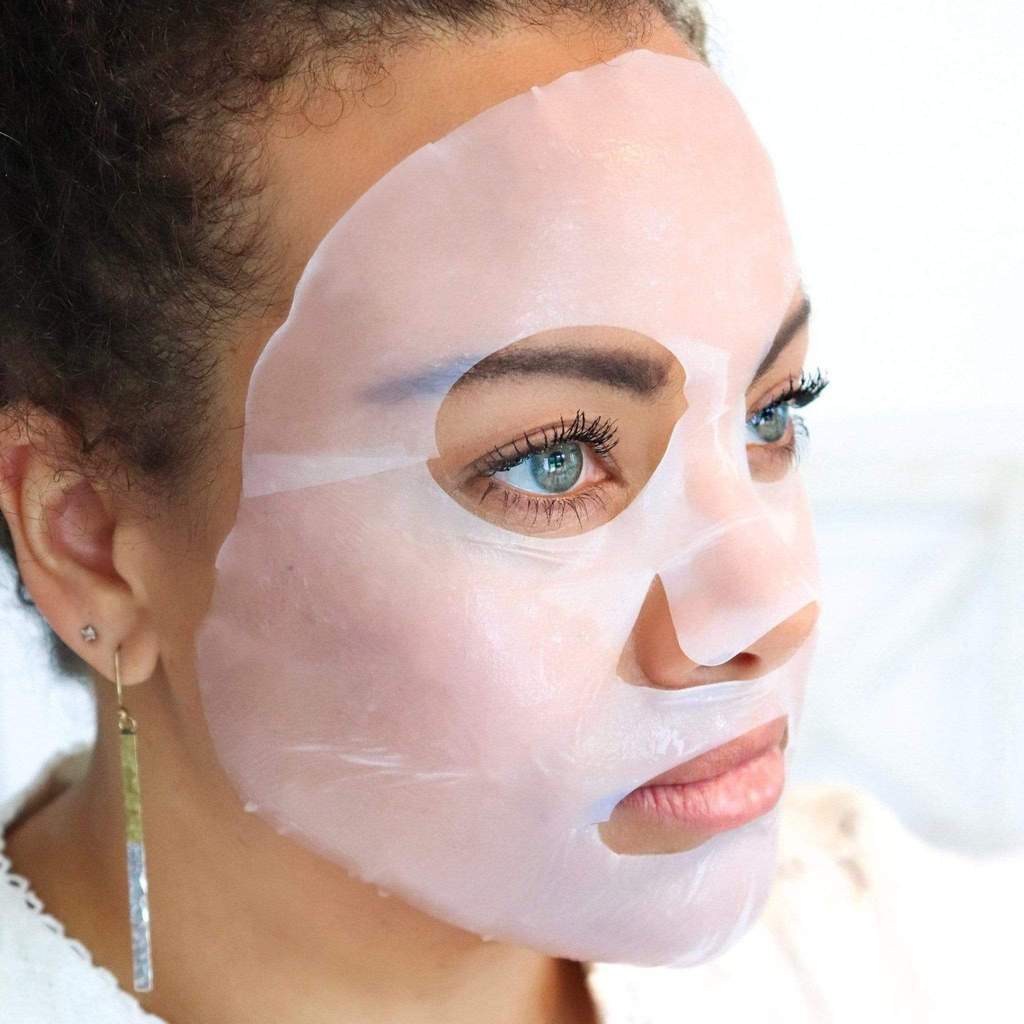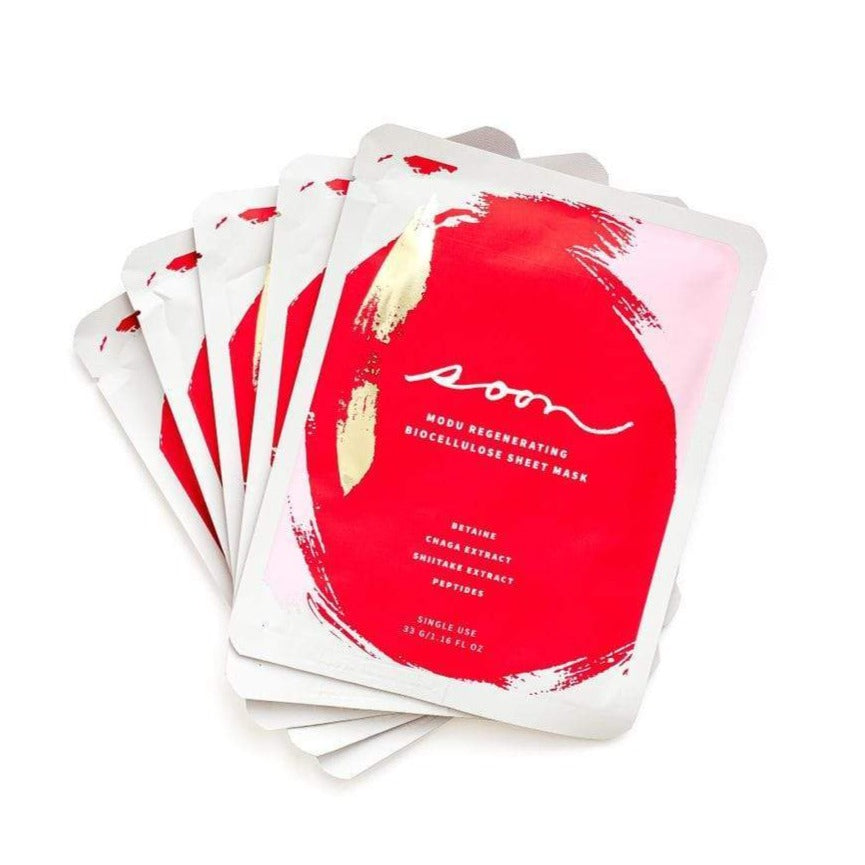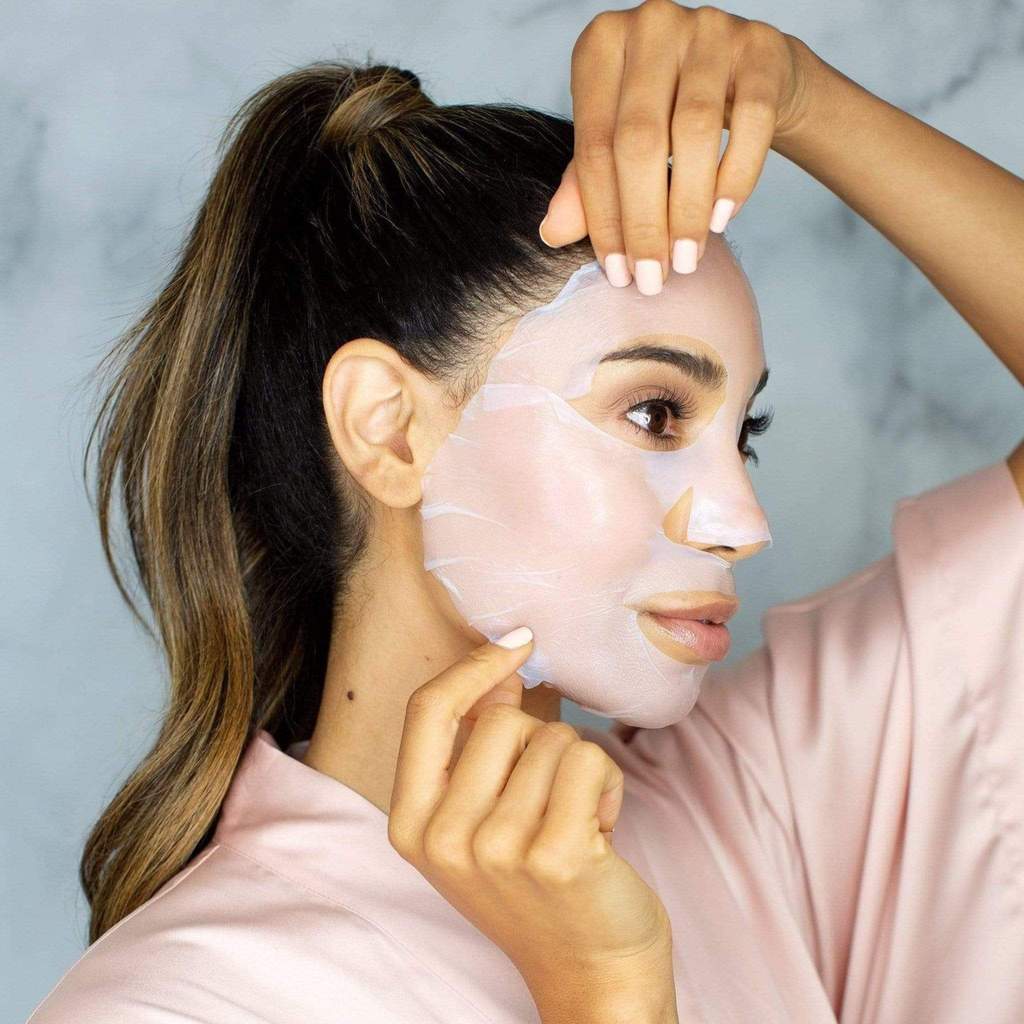 Modu Regenerating Face Mask
Perfect for a weekly at-home facial treatment, this firming sheet mask lifts, tightens and improves skin texture in less than 20 minutes.
Modu Regenerating Face Mask
A firming sheet mask that lifts, tightens and improves skin texture. This biodegradable and eco-friendly sheet mask is designed to fit all face shapes and sizes, adhering to the skin to firm skin in 20 minutes.

Adenosine, ginkgo nut, and betaine hydrate, and restore the skin's surface to appear vibrant, firmer and smoother, while purslane and niacinamide ward off signs of premature aging and repair cell damage.

This mask is ideal for a weekly at-home facial treatment.
Why it works
Biocellouse can absorb up to 100x its dry weight and fits perfectly against skin, locking in serum and preventing evaporation

Increase cell turnover and minimize wrinkles with chaga extract

Tighten and firm skin with betaine and peptides

Reduce enlarged pores, brighten, and soften fine lines with shiitake extract
How to use
Cleanse and dry your face

Open pouch, unfold mask, and remove the clear film from one side of the mask

Starting at your forehead, apply mask to face, making sure to smooth under chin and across nose

Use tab at bottom of mask to remove mesh backing from other side of mask. Use sides of mask near slit to lift cheeks up slightly and activate increased firming

Smooth mask over face. Leave on face for 15–20 minutes

Remove mask, discard or compost, and pat serum into face
Ingredients
Betaine: Betaine is a gentle hydrator originally derived from sugar beets. Betaine hydrates and moisturizes the skin, and smoothes fine lines.
Chaga Extract: Chaga contains high amounts of antioxidants that protect skin against oxidative stress. It also helps increase collagen production to restore skin elasticity.

Shiitake Extract: This mushroom contains kojic acid, which helps brighten and even skin tone. Shiitake also contains lots of antioxidants that fight free radical damage and visible signs of aging.

Peptides: A short chain of amino acids, peptides improve the texture in your skin and keep skin firm & lifted. Peptides also help smooth & hydrate skin.        

Water, Methylpropanediol, Butylene Glycol, Glycerin, Dipropylene Glycol, 1,2-Hexanediol, Acer Saccharum (Sugar Maple) Extract, Chamomilla Recutita (Matricaria) Flower Extract, Portulaca Oleracea Extract, Lactobacillus/Leuconostoc/Coconut Fruit Extract Ferment Filtrate, Betaine, Hydroxyethyl Acrylate/Sodium Acryloyldimethyl Taurate Copolymer, Caprylyl Glycol, Ethylhexylglycerin, Xanthan Gum, Hamamelis Virginiana (Witch Hazel) Water, Adenosine, Inonotus Obliquus (Mushroom) Extract, Corthellus Shiitake (Mushroom) Extract, Phellinus Linteus Extract, Ganoderma Lucidum (Mushroom) Stem Extract, Sorbitan Isostearate, Ecklonia Cava Extract, Artemisia Capillaris Flower Extract, Houttuynia Cordata Extract, Saururus Chinensis Extract, Arnica Montana Flower Extract, Artemisia Absinthium Extract, Achillea Millefolium Extract, Gentiana Lutea Root Extract, Pseudoalteromonas Ferment Extract, Hydrolyzed Wheat Protein, Hydrolyzed Soy Protein, Hexapeptide-10, Tripeptide-10 Citrulline, Tripeptide-1, Fragrance
Customer Reviews
Filter Reviews:
skin
mask
difference
best
hands
review
skincare routine
ingredients
patch
investment
Jeannie

United States
12/07/2023
Fast delivery and great product!
Sue

United States
12/07/2023
I love mask day using these.
Michelle O.

United States
09/11/2023
Awe-some!
Love the masks from this line, noticiable difference right after use.
A M.

United States
07/24/2023
A game changer for mature skin
Title: A True Game-Changer for Mature Skin! Review: I recently tried the Soon Skincare Modu Regenerating Face Mask, and let me tell you, it's an absolute game-changer! As someone who is 47 years old, I've been on the hunt for a product that can address the signs of aging, and this sheet mask has exceeded my expectations. From the moment I put it on, I could feel its nourishing properties working wonders on my skin. The texture of the mask itself is incredibly soft, making the application a pleasant experience. After just one use, my skin felt noticeably softer, tighter, and smoother. What impressed me the most is the visible difference it made in the appearance of fine lines and wrinkles. The Modu Regenerating Face Mask seemed to plump up my skin, leaving it looking more youthful and radiant. I also appreciate that this mask is thoughtfully designed to adhere perfectly to the contours of my face, ensuring that every inch receives the benefits of its powerful ingredients. And speaking of ingredients, I was delighted to see that it contains a blend of skin-loving elements that work together to rejuvenate and revitalize my complexion. Though some might find the price a little steep, I firmly believe it's well worth the investment. With results like these, I'm convinced it's worth every penny. If you're seeking an amazing sheet mask that delivers real results, the Soon Skincare Modu Regenerating Face Mask should be at the top of your list. It has become an essential part of my skincare routine, and I can't recommend it enough for anyone looking to achieve youthful and revitalized skin!
Jessica E.

United States
07/04/2023
Must buy
Love it! No tacky feel and skin is smooth and hydrated.
Laurie M.

United States
03/24/2023
LOVE my skin!!!
I love my skin so much more whenever I use this mask! It covers a multitude of issues. And THANK YOU for the extra serum in the pouch to use on my neck & chest, hands. This stuff is the BEST!! In fact, can we just bottle it?
Terese B.

United States
05/17/2022
Rejuvenating!
They smell so good, feel so good, and I look so good after! My skin really does feel rejuvenated after using this face mask. Especially in the winter when I get a dry patch, I put this mask on and I'm better than before!
V U.

United States
05/10/2022
Love this mask
My skin feels amazing, plump and moisturized after using this mask. I've tried the other soon mask as well with the micro-holes. Both are fantastic but this one is easier to wear and seems to work slightly better for my skin.
linda g.

United States
03/09/2022
Ease of use
Mask works but a hassle to use